Table of Contents
---
I. Why Order from a Canadian Online Pharmacy?
II. 5 Steps to Order from a Canadian Pharmacy Online
III. Finding the Best Online Canadian Pharmacy for You
---
Over the past few years, online Canadian pharmacies have emerged as a top option for ordering safe and affordable prescription drugs. Today, more and more consumers are ordering their medicine from Canada to access unmatched cost savings and the convenience of home delivery.
In this article, we'll cover the must-know essentials for anyone thinking about ordering their next prescription from a Canadian online pharmacy—key benefits, steps for ordering, how to find a reputable provider, and more.
Quick Takeaways:
Prescription drugs from Canada are anywhere from 50-80% cheaper than U.S. alternatives.
Benefits of Canadian online pharmacies include: cost savings, high safety standards, convenient home delivery, exceptional customer service, and high transparency.
Reputable Canadian online pharmacies have a CIPA certification logo displayed on their website.
Every pharmacy is unique. It's important to find one that offers the drug(s) you need and that you feel you can trust.
Why Order from a Canadian Online Pharmacy?
Canadian online pharmacies are one of the best sources for safe and affordable drugs, especially for U.S. residents, who are subject to the highest domestic prescription drug prices in the world. In fact, prices of Canadian medications range from 50% to a staggering 88% cheaper than their U.S. counterparts. [1]
This is because the pharmaceutical landscape in the United States is much different than in Canada or any other country in the world. Patent protection for drug developers in the U.S. is extensive, and they maintain exclusivity over new drugs sometimes for decades.
This means more affordable generic alternatives are often unavailable to U.S. residents, even when the FDA approves them for safe use. One timely example is the popular anticoagulant drug Eliquis. It's been on the market in the U.S. since 2012 and its generic version has received safety approval from the FDA.
But even though the generic version is approved and available in many countries, it won't be sold in the U.S. until 2028 thanks to a patent extension. [2]
Meanwhile, Canadian online pharmacies like My Drug Center provide generic Eliquis to U.S. consumers at a fraction of the cost of the brand-name version.
These are the kinds of scenarios driving U.S. consumers to Canadian pharmacies, and understandably so. In addition to the massive cost savings, online Canadian pharmacies offer important benefits like:
Solid Safety Standards: Regulated by the Canadian International Pharmacy Association (CIPA)
Convenient At-Home Delivery: Typically delivered in just a few weeks
Exceptional Service: Customer service available via channels like phone, email, and chat
High Levels of Transparency: Information about drug sourcing and data security readily available
5 Steps to Order from a Canadian Pharmacy Online
Ordering from a Canadian pharmacy online is safe and easy when you know the right steps to follow. Use the quick guide below to navigate through the process:
Confirm CIPA Certification
Unfortunately, there are rogue online pharmacies out there that sell counterfeit and unsafe drugs. It's essential to check that the online pharmacy you consider using is a certified CIPA member, and you can do that by looking for this logo on their website: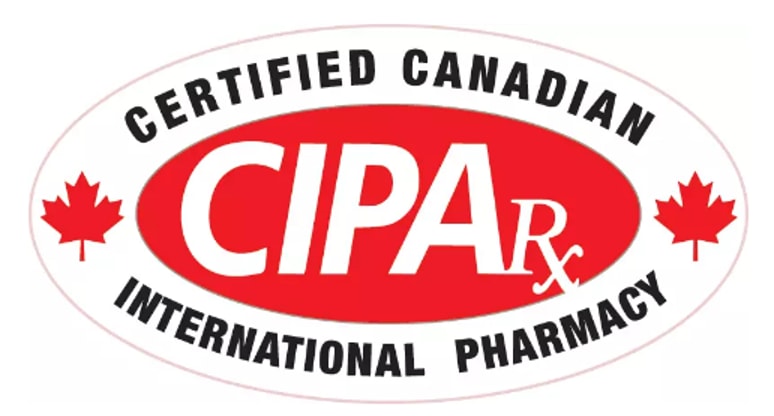 The logo should be clickable and take you right to the pharmacy's CIPA membership verification.
Check for Your Prescription
Prescription drug availability varies from pharmacy to pharmacy. Once you find a reputable pharmacy, check to make sure they have the drug(s) you need available on their site. On My Drug Center's ordering page, you can do this with one quick search.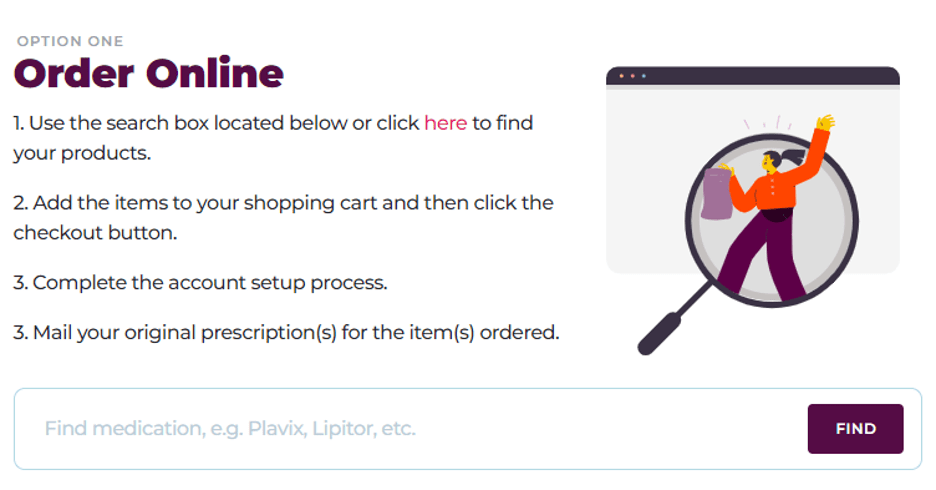 Create an Account
Online pharmacies require you to create an account in order to fulfill your prescription. This is because they need to store important data, like your contact information and prescription documents. Creating an account usually only takes a few minutes.
Complete Your Order
Next, complete your prescription order. While many customers like to complete this step online, some pharmacies (like My Drug Center) also allow you to order by phone if you prefer.
Mail Your Prescription
Mailing your prescription is an essential step when you order a prescription from a Canadian online pharmacy. The pharmacy keeps your prescription on record. Many customers choose to make a copy of their prescription to keep as well.
It's important to be prompt about this step. Pharmacies need your prescription on file in order to ship your medications.
Finding the Best Online Canadian Pharmacy for You
Just like with regular brick-and-mortar pharmacies, it's important to find the best online Canadian pharmacy to meet your unique needs and expectations. In many cases, this comes down to three key attributes: drug availability, affordability, and customer service.
That's why My Drug Center strives to deliver on all three fronts. We have a wide selection of brand-name and generic prescription drugs available on our site. Our customer service team is available by phone or online seven days a week to help answer your questions and guide you through the ordering process. We also have trained pharmacists on staff to answer medication-related questions.
Finally, we aim to offer the most competitive prices available for the medications you need. Our clients save up to 80% on their prescriptions.
Visit our website to learn more.
The information in the article is not meant to be used for treatment or diagnosis. It is designed for general awareness and for information purposes only. Always consult a medical professional for your specific healthcare needs.