Table of Contents
---
II. Why Take Apixaban (and Other Generic Drugs)?
III. Ordering Eliquis Generic from Canadian Pharmacies
IV. Benefits of Online Canadian Pharmacies
V. Ordering Generic Eliquis from My Drug Center
---
Nearly 14 million people [1] are prescribed Eliquis annually in the United States alone. As one of the top anticoagulants on the market, it's become an important life-saving medication for the tens of millions who take it. But U.S. residents still don't have access to Eliquis generic, which treats the same conditions but at just a fraction of the cost.
And while the FDA has already approved the first generic Eliquis drugs, they won't be available on U.S. markets until nearly 2030.
Still, there are options for U.S. residents to safely, legally, and conveniently order it online. In this article, we'll guide you through the steps to do it—and how it could save you hundreds of dollars each year.
Quick Takeaways:
Generic Eliquis is called apixaban. It has the same active ingredients as the brand-name version, but sells for just a fraction of the cost.

The U.S. public and government are both in support of increased access to prescription drug importation

from Canada

.

Online Canadian pharmacies provide a safe and legal way to order Eliquis generic from Canada to the United States.

At My Drug Center, Eliquis generic is available at half the cost of brand-name Eliquis.
What is Generic Eliquis?
The generic version of Eliquis is called apixaban. Both the brand-name and generic versions of the drug are popular prescription anticoagulants (blood thinners) primarily used to reduce the risk of blood clots and strokes in individuals with certain conditions such as atrial fibrillation, deep vein thrombosis (DVT) or pulmonary embolism (PE).
Apixaban and Eliquis are preferred over other anticoagulant drugs like Coumadin or Jantoven (generic name warfarin) and Xarelto (generic name rivaroxaban) because they have no dietary restrictions and require less ongoing testing and monitoring.
Eliquis was first approved for sale in the U.S. and Canada in 2012. Eliquis generic got approval in 2022 [2] for sale in Canada, but it will still be some time before it's available in U.S. pharmacies. A patent extension request from Bristol-Myers Squibb was approved by the United States Court of Appeals [3] in 2020, and the first generic versions of the drug won't hit U.S. markets until 2028.
Why Take Apixaban (and Other Generic Drugs)?
Eliquis and eliquis generic apixaban have the same active ingredients and are prescribed to treat the same conditions. So why choose the generic version over the brand-name medication?
In most cases, people choose apixaban to save costs. At My Drug Center, for example, an order for 180 2.5mg brand-name Eliquis pills costs $397, while the same prescription order for apixaban is only $186. The cost for 168 5mg brand-name Eliquis pills is $389, while 180 apixaban pills costs $194.
In short: Brand-name Eliquis costs twice as much as Eliquis generic.
The challenge for U.S. residents taking Eliquis is the unavailability of apixaban on American markets. Fortunately, there are safe and convenient ways to import it by ordering online from Canadian pharmacies.
Ordering Eliquis Generic from Canadian Pharmacies
American residents can order and import prescription drugs—including Eliquis generic—from Canadian pharmacies safely and legally. It's a life-changing option for many when you consider the huge price gap for prescription drugs in the U.S. vs. other countries.
The Financial Times reports that the cost of Eliquis and Eliquis generic is a whopping 4X higher [4] in the United States than in Canada or the U.K.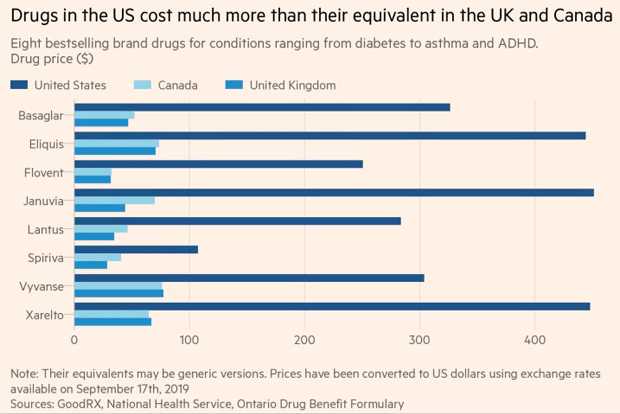 It's no wonder, then, that Americans overwhelmingly support the ability to import prescription drugs from Canada to save costs—more than 75% [5] across all political parties.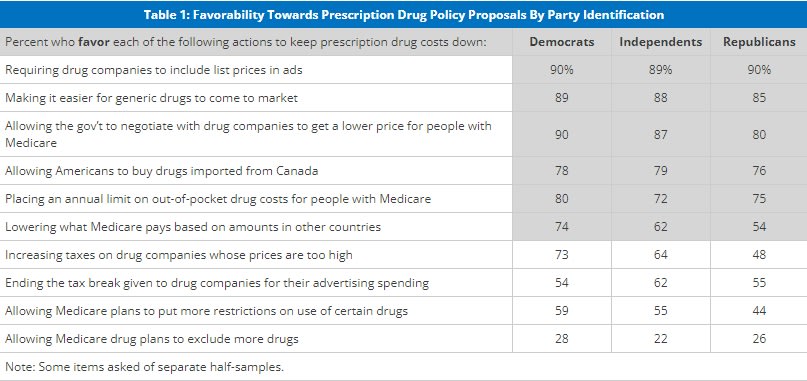 The U.S. government has taken action in response, and an executive order [6] was issued in 2021 for the FDA to work with states to make prescription drug importation easier.
Online Canadian pharmacies have made this option even more accessible in recent years, and today prescription drugs can be seamlessly ordered, imported, and delivered to U.S. residents' front doors at an affordable price.
Benefits of Online Canadian Pharmacies
Online Canadian pharmacies are a safe and convenient way to access generic Eliquis. They have a reputation for reliable service and affordable prices, and the Canadian government regulates the pharmaceutical industry via Health Canada and the Canadian International Pharmacy (CIPA) to ensure that high-quality safety standards are maintained.
Online Canadian pharmacies also eliminate the need for visits to brick-and-mortar pharmacies, which can be difficult for patients recovering from surgery or those with mobility limitations.
Perhaps most significantly, ordering generic Eliquis from a Canadian pharmacy provides greater affordability than purchasing the brand-name version in the United States. This is life-changing for those struggling to pay for their medications or even skipping doses to save costs, something 37% of Americans [7] say that they've done.
Ordering Generic Eliquis from My Drug Center
My Drug Center is a CIPA-certified online Canadian Pharmacy providing affordable prescription drugs to thousands of American customers each year. When you order from My Drug Center, you can rest assured that you're dealing with licensed Canadian pharmacies and international fulfillment centers approved by the regulatory bodies from their respective countries.
The ordering process is easy. You can order online in four easy steps:
Search for generic Eliquis on the online ordering page
Add items to your shopping cart and click the checkout button
Complete the quick account setup process
Mail your original prescription(s) for the item(s) you ordered
All transactions are encrypted for maximum security, and we're open 7 days per week to provide support when you need it.
You can also order Eliquis generic over the phone if you prefer to have a live agent guide you through the process. Simply call My Drug Center toll-free at 1-877-385-8998.
Visit our website to learn more about My Drug Center and how we can help you fill your prescriptions easily and affordably.