Table of Contents
---
II. Generic vs. Brand-Name Eliquis
III. Apixaban Generic vs. Brand-Name Comparison
IV. Ordering Generic Apixaban from the U.S.
---
Eliquis and its generic version have seen huge growth in the nearly 10 years since it first came to market. But, like most prescription drugs—especially in the United States—its cost can be a burden. Generic apixaban prices are significantly lower—less than half the brand-name Eliquis price—but it's not yet available for sale in the U.S.
If you're currently taking Eliquis, this probably leaves you with some questions, such as:
Are there any real differences between brand-name Eliquis and generic apixaban?
What are the actual prices for both versions of the drug?
If I live in the United States, is there a way for me to access generic apixaban safely?
What about Medicare or insurance?
What are the ordering options? How do I get started?
In the sections that follow, we'll answer these questions and more. Read on for the complete guide to generic apixaban prices in 2023.
Quick Takeaways
Apixaban is the generic version of brand-name Eliquis, a popular anticoagulant drug.
Eliquis currently owns more than half (57%) of the anticoagulant market.
Though both versions have the same active ingredients and effects, generic apixaban prices are less than half of those of brand-name Eliquis.
While generic apixaban is many years away in the U.S., other countries like Canada and the UK already have generic apixaban available in their markets.
American consumers can safely and legally order generic apixaban through online Canadian pharmacies like MyDrugCenter.
What is Apixaban?
Apixaban is the generic version of the brand-name drug Eliquis. Both are popular anticoagulant medications that reduce the risk of blood clots and strokes and are mainly taken by patients with conditions like atrial fibrillation, pulmonary embolism (PE), and deep vein thrombosis (DVT).
Doctors and patients alike prefer apixaban in many cases because it comes with fewer dietary restrictions and requires less ongoing testing and monitoring than other blood thinners, such as warfarin (brand name Coumadin) and rivaroxaban (brand name Xarelto).
Generic Apixaban vs. Brand-Name Eliquis
Generic apixaban has the same active ingredients and effects as brand-name Eliquis, but its approval timeline and current market availability are quite different.
Since it earned FDA approval and came to market in 2014, brand-name Eliquis has become one of the top-selling anticoagulant brands, adding $1 billion in sales for Bristol Myers Squibb every year and owning more than half (57%) of the anticoagulant market. [1]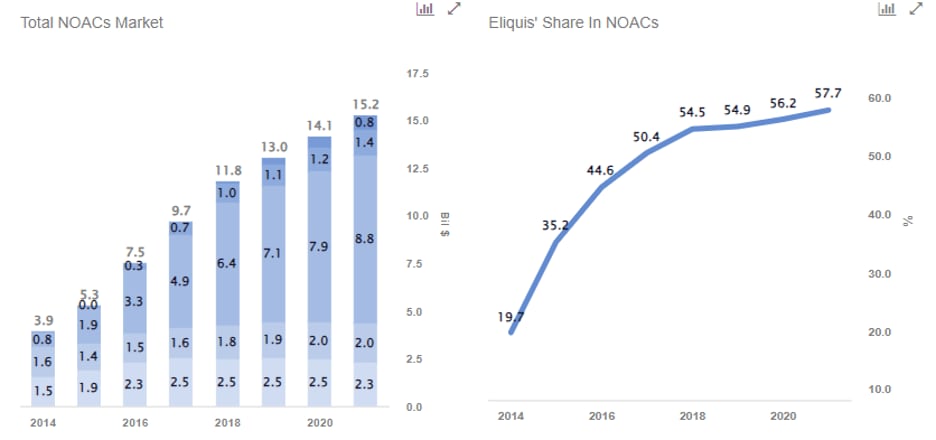 Generic apixaban wasn't approved until much later—in many places, like Canada, and the UK, not until 2022. [2][3] And for U.S. residents, domestic sales of generic apixaban are still years away—it won't be available on the market until 2028, according to a recent patent extension approval. [4]
Apixaban Generic Price and Comparison to Brand-Name Versions
Undoubtedly, the biggest reason consumers care about the approval and availability of generic apixaban is price. As with most drugs, generic Eliquis is priced much lower than its brand-name version. In fact, generic apixaban is just a fraction of the brand-name cost in most cases.
For the 37% of people who say they've adjusted dosage or even skipped a prescription due to cost, a price difference like that is a huge deal. [5]
Let's look at the current difference between brand-name and generic Eliquis prices at MyDrugCenter.
As you can see below, for all dosages and quantities, the price gap is significant—generic apixaban costs less than half the brand-name version.

When you consider drug prices in the U.S.—which, for Eliquis are $500+—the potential cost savings are even more significant.
Even those with Medicare or private insurance coverage can save up to $1000 (or more) on Eliquis prescription costs by ordering the generic version from MyDrugCenter.
How U.S. Consumers Can Order Generic Apixaban
While domestic availability for generic apixaban is still five years away for U.S. consumers, they can safely and legally order it now from a Canadian pharmacy.
You can import generic apixaban to the United States from an online Canadian pharmacy like MyDrugCenter as long as you have a prescription from your doctor and order within a 3-month supply for personal use. You can get your prescription delivered right to your front door.
Here's how you can order generic apixaban in 5 easy steps:
Visit MyDrugCenter's online ordering page for apixaban and Eliquis
Select your quantity and dosage, then add it to your cart
Create your account with MyDrugCenter (this only takes a minute)
Mail in your original prescription
Wait for your prescription order to arrive in 3-4 weeks
If it's more convenient for you to order over the phone, you can call us and our customer service team will guide you through the process. If needed, we have licensed pharmacists on our team to answer your questions.
MyDrugCenter is a CIPA-certified online pharmacy helping thousands of customers save on their prescriptions every year. Visit our website to learn more about how we can help you fill your prescriptions easily and affordably.
The information in the article is not meant to be used for treatment or diagnosis. It is designed for general awareness and for information purposes only. Always consult a medical professional for your specific healthcare needs.