Table of Contents
---
I. Eliquis Pricing: A Quick Overview
II. How Much Does Eliquis Cost with Medicare?
III. How Much Does Eliquis Cost with Insurance?
V. Affordable and Fast Delivery from MyDrugCenter
---
The cost of Eliquis with Medicare or private insurance isn't always easy to figure out. It depends on your plan, dosage, location of residence, and other factors that can impact its retail price and out-of-pocket costs to you as the consumer.
If you've recently been prescribed Eliquis or you're looking for ways to lower your monthly prescription costs, you've come to the right place. In this article, we'll break down the cost of Eliquis under Medicare and private insurance in the U.S. and explore cost-saving options you can take advantage of right away.
Quick Takeaways
The retail price of Eliquis in the United States is about $500. This is significantly more expensive than the global average.
Medicare Advantage Part C and Medicare Part D both cover Eliquis. You can choose either a high-premium, low-deductible plan or a low-premium, high-deductible plan, depending on your medical and prescription needs.
Eliquis is covered by private insurance providers, but out-of-pocket costs can be higher because it is a high-tier, brand-name drug.
Canadian online pharmacies offer safe, legal, and affordable options for Eliquis takers to order their prescriptions at a lower cost.
Eliquis Pricing: A Quick Overview
The cost of Eliquis in the United States hovers around $500 and may vary slightly depending on where you live and the pharmacy you use. Below is a breakdown of Eliquis pricing by pharmacy in the northeast region of the U.S.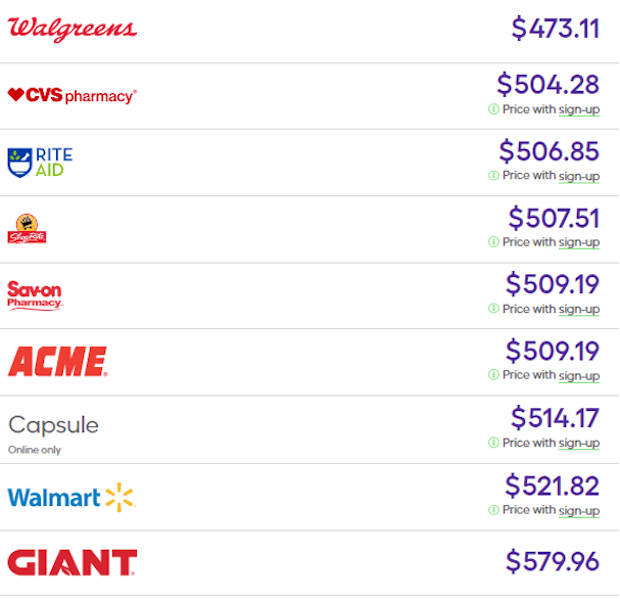 While the cost is consistent across the U.S., the price of Eliquis is significantly higher for American consumers than those in other developed countries around the world. On average, U.S. drugs cost about 240% of the global average—Eliquis included. [2] As a result, taking prescriptions is often a greater financial burden for U.S. residents.
Medicare and private insurers do offset the cost of Eliquis for those who have coverage. Let's take a look at how those cost breakdowns compare to each other and to Eliquis's standard retail pricing.
How Much Does Eliquis Cost with Medicare?
Eliquis is covered by Medicare Advantage Part C and Medicare Part D plans. It's part of their drug formulary, which lists all of the prescription drugs covered under their plans. [3]
Because Eliquis is a brand-name drug (generic Eliquis won't be available in the U.S. until 2028), its price—even with Medicare coverage—can come with higher out-of-pocket costs. As the consumer, you have to decide between paying a higher monthly premium for your plan, which lowers the drug deductible, or paying a lower premium and higher deductible.
For example, a SecureRx Medicare Part D plan covered by Avalon Insurance Company comes with a monthly premium of $126.30, but the drug deductible is $0.00. That means aside from your premium, your only out-of-pocket expense will be your co-pay (about $40).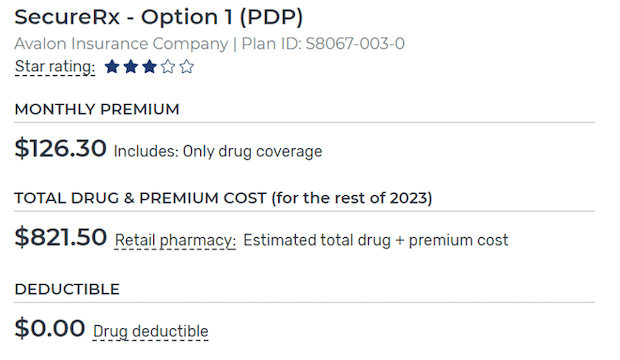 Another plan offered by Cigna comes with a monthly premium of only $12.40 for drug coverage but requires a $505.00 drug deductible paid out-of-pocket annually as well as a monthly co-pay.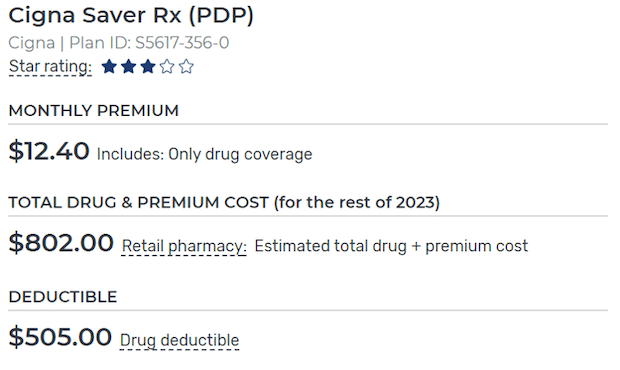 The right Medicare plan for you depends largely on your unique needs, the plans available to you in your area, and the details of each plan's coverage.
Take time to do your research, map out your medical and prescription needs (and their related costs), and talk to the Medicare support team to help guide you through the selection process.
How Much Does Eliquis Cost with Insurance?
The cost of Eliquis with insurance is determined by tiers on their drug formularies. As with Medicare, because Eliquis is a brand-name drug, it lands on a higher tier and comes with more out-of-pocket expenses for the consumer.
Below you can see Cigna's formulary tier breakdown. They categorize Eliquis as Tier 3 for preferred brand-name drugs. The monthly co-pay paid by the customer is $45, compared to $4 and $10 in tiers 1 and 2, respectively.
This is in addition, of course, to monthly premiums, which can range from around $100 to several hundred dollars, depending on your specific plan and whether it's purchased through your employer or the open market.



Insurance companies break down their tiers differently, so it's important to check with your provider to understand exact cost breakdowns.
Cost-Saving Alternatives
Online Pharmacies
As you can see, even with Medicare or private insurance, Eliquis comes with fairly high costs for the consumer, depending on your plan and required dosage. Online pharmacies can combat some of these costs by offering lower retail prices. This is because they don't have to cover many of the overhead costs required to run a brick-and-mortar store.
Canadian pharmacies can enhance cost savings even more for American consumers because of the drastic difference in Eliquis pricing between the U.S. and Canada and the availability of generic Eliquis to import to the U.S. safely and legally.
For example, the Medicare plans above both require a total payment of about $800 for 60 5mg Eliquis pills per month from August through December. For private insurance, even when we use a lower potential monthly premium of $100, when combined with the copay, it equals $725.
Through MyDrugCenter, U.S. customers can order the generic version of Eliquis—not available in the U.S.—for just $75 per month or $375 for the remainder of 2023.
Whether you have private insurance or Medicare, that translates to $350-$400 savings in just five months. For the whole year, those savings would climb to nearly $1000.

Access Affordable, Fast-Delivered Prescription Drugs from MyDrugCenter
The benefits of ordering your prescription drugs from a Canadian pharmacy extend beyond pricing, with easy ordering options, quick international shipping, and no language barriers.
MyDrugCenter is a trusted, CIPA-certified online pharmacy helping thousands of Americans save on their prescriptions every year.
Learn more about how to order and save up to 80% on your medications today.
The information in the article is not meant to be used for treatment or diagnosis. It is designed for general awareness and for information purposes only. Always consult a medical professional for your specific healthcare needs.