Table of Contents
---
I. How Much Does Eliquis Cost? U.S. vs. Canada Comparison
II. Brand-Name vs. Generic Eliquis: What's the Difference?
III. Ordering Eliquis From Online Canadian Pharmacies
IV. The Cost of Eliquis: A Final Recap
---
Eliquis is the brand-name medication for apixaban, a widely-prescribed anticoagulant drug used to prevent blood clots in patients with conditions such as atrial fibrillation, deep vein thrombosis, and pulmonary embolism. It's one of the most-preferred anticoagulants because it requires less frequent monitoring and less dietary restrictions than other alternatives.
But there is one thing many patients do worry about when taking the medication, and that's Eliquis's cost—especially for consumers in the United States, where prescription drug prices are higher across the board.
Fortunately, there are safe, affordable, and convenient options available for patients who need to take Eliquis, and in this article, we'll walk through them in detail. We'll cover:
How much does Eliquis cost?

—

Eliquis pricing

and purchase options

Eliquis vs. Generic Apixaban

— An overview of their differences

Where to Order Eliquis

— Options for consumers in the U.S. and Canada
Quick Takeaways:
Eliquis and generic apixaban are 3X cheaper in Canada than in the United States.

Generic apixaban is not available for sale in the U.S., but American consumers can order it safely and legally from Canadian pharmacies.

Brand-name Eliquis costs 2X or more than generic apixaban at My Drug Center.

Online Canadian pharmacies can offer Eliquis at an even lower price because they save on the overhead costs of running physical stores.

Look for CIPA certification to check that a Canadian pharmacy is reputable.
How Much Does Eliquis Cost? U.S. vs. Canada Comparison
The cost of Eliquis is quite different for U.S. residents than Canadian residents. Prescription drug prices are high in the United States for several reasons, including extensive patent protection, lack of price regulation, advertisement and promotion tactics, and complex distribution channels.
The biggest factor, however, is that generic Eliquis isn't yet available in the United States thanks to a patent extension—and it won't be on U.S. markets until 2028. As a result, consumers buying from U.S. pharmacies have to pay the brand-name price.
In Canada, prices are significantly lower. Both brand-name and generic Eliquis (apixaban) are available to buy, and there are no price negotiations or advertising campaigns driving prices up higher than fair market value.
Below is a breakdown of the Eliquis costs across the U.S. and Canada as compared between My Drug Center and Costco Pharmacy in California. As you can see, in Canada, Eliquis costs about a third of the average U.S. price for identical quantities and dosage. This translates to thousands of dollars saved for consumers buying from Canadian pharmacies vs. the U.S.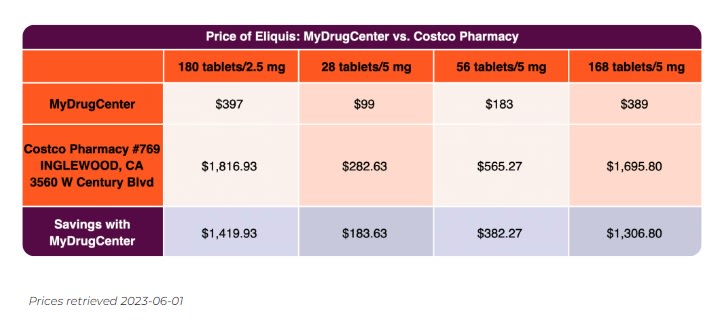 Brand-Name vs. Generic Eliquis: What's the Difference?
There are only three things differentiating brand-name Eliquis from its generic version: its name, price, and availability—none of which are related to safety or effectiveness.
Brand-name Eliquis and generic apixaban have the same active ingredients, and people taking generic apixaban can expect to have the same experience as if they were taking the brand-name prescription.
The challenge for American residents, as mentioned, is that generic apixaban won't be sold in the United States for several more years. However, they can safely and legally import it to the U.S. by ordering from a Canadian pharmacy.
Canadian pharmacies already offer brand-name Eliquis at a more affordable price than the U.S., and generic apixaban is available for an even lower cost. Here's how the price difference shakes out at My Drug Center:
| | | |
| --- | --- | --- |
| Dosage / Quantity | Eliquis | Apixaban (Generic) |
| 2.5mg / 180 pills | $397 | $186 |
| 5mg / 56 pills (Eliquis) and 60 pills (Apixaban) | $183 | $75 |
| 5mg / 168 pills (Eliquis) and 180 pills (Apixaban) | $389 | $132 |
Ordering either brand-name or generic Eliquis from My Drug Center is easy for U.S. consumers. They can order online in a few simple steps, and their prescription will be conveniently delivered to their front door.
Ordering Eliquis From Online Canadian Pharmacies
U.S. consumers can order Eliquis or generic apixaban from online Canadian pharmacies to access the drug at the lowest possible cost. On top of the price difference that already exists between the U.S. and Canada, online Canadian pharmacies also save on overhead costs associated with a brick-and-mortar store, meaning they can make their prices even more affordable.
Understandably, U.S. consumers often have questions about the safety, legality, and other aspects of ordering Eliquis and other prescription drugs from Canada. Let's walk through some of these FAQs in more detail.
FAQ #1: Is it safe and legal to order prescription drugs from Canadian pharmacies to the U.S.?
Yes. In fact, the U.S. government and public opinion are both very much in favor of increasing access to prescription drug importation for American residents.
There are rules around the process (for example, imported drugs must also be approved for use by the FDA), however, a reputable pharmacy will have built-in regulatory compliance measures. You can be confident that any prescription drugs available to be shipped to the U.S. from trusted Canadian pharmacies meet legal standards.
FAQ #2: How do I know if a Canadian pharmacy is reputable?
Canadian pharmacies should be certified by the Canadian International Pharmacy Association (CIPA) [1] and will typically display the CIPA logo on their website.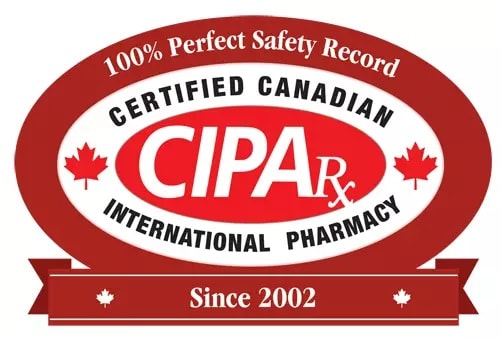 Reputable pharmacies will also always ask you for your original prescription from your doctor, display an address and phone number, and have pharmacists available to answer questions.
FAQ #3: How do I order from an online pharmacy?
The process is easy. At My Drug Center, for example, you simply visit our online ordering page, select your prescription, create an account (which only takes a few minutes), and complete your order. You mail your prescription separately to us and we mail your medication to you.
You can also order by phone if that's your preferred method, and our live agents are available to support you through the entire order process.
The Cost of Eliquis: A Final Recap
For U.S. consumers, ordering Eliquis from a Canadian pharmacy is the more affordable option— especially if they are looking to purchase the generic version. In Canada, both the brand-name and generic versions of the drug cost only a third of their U.S. market price. Ordering Eliquis from an online pharmacy delivers even more cost savings.
It's essential to know what to look for in a Canadian pharmacy, and find one that's reputable and CIPA-certified.
The online ordering process is easy, safe, and secure. You simply visit your pharmacy's website, complete your order, mail your prescription, and wait for your delivery. Trusted pharmacies will always ask you for your original prescription and have pharmacists on hand to provide support.
For long-term Eliquis takers, going this route to order your prescription can result in thousands of dollars in savings each year.
To learn more about ordering Eliquis from My Drug Center, visit our website or contact one of our live agents today.