Table of Contents
---
I. Why Order from an Online Canadian Pharmacy?
II. Comparing Online Pharmacy Prices in Canada: 3 Top Options
---
Canadian online pharmacies are a reputable and affordable option for both domestic and U.S. consumers. But comparing online pharmacy prices in Canada can be an overwhelming task if you're searching for the right provider and don't know where to start.
A quick search for online pharmacies in Canada will yield dozens of results, and you might not know which ones to trust. Plus, other factors like certification, shipping options, and customer service play an impactful role.
In this guide, we'll help you navigate the process. We'll explore why online pharmacies have become such a popular option, and compare three of the top online Canadian pharmacies so you can choose the best one for you.
Let's dive in.
Quick Takeaways
The online pharmacy market is growing rapidly, and Canada is a top worldwide provider.
Online Canadian pharmacies are especially beneficial for those with mobility limitations and American residents who want access to lower prescription drug prices.
MyDrugCenter offers the strongest combination of drug availability, customer service, and affordable pricing compared to its peers.
Why Order from an Online Canadian Pharmacy?
Online pharmacies offer a range of benefits for prescription drug takers, including easy ordering procedures, fast and convenient delivery, and lower prices thanks to the elimination of overhead costs related to running a brick-and-mortar store.
For individuals with mobility limitations, the benefits of prescription drug delivery also extend to safety and quality of life since they no longer have to worry about leaving their homes to access the medications they need. And for American consumers, cost-saving benefits can be even more significant given that U.S. drug prices are so high domestically.
These motivators and more have led more and more individuals to choose online pharmacies over traditional in-person prescription fulfillment. The North American online pharmacy market is expected to grow exponentially between 2023 and 2030 at an annual growth rate of 20%. [1]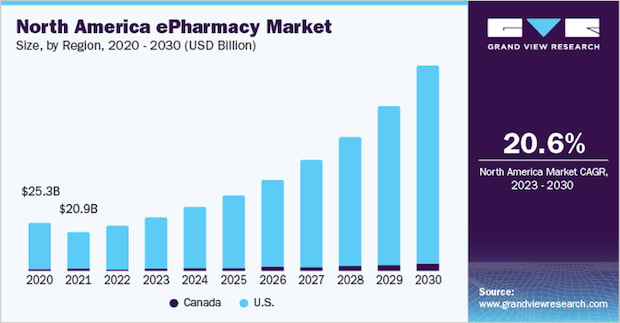 Canadian pharmacies have a reputation for trustworthy, reliable, and affordable prescription drug provision thanks to rigorous approval requirements and oversight from Health Canada [2] and the Canadian International Pharmacy Association (CIPA). [3]
In the next section, we'll compare 3 of the most popular online Canadian pharmacies from a pricing perspective to help you choose one you know you can trust.
Comparing Online Pharmacy Prices in Canada: 3 Top Options
MyDrugCenter is an industry-leading online Canadian pharmacy known for its affordable pricing and commitment to exceptional customer service. It offers the strongest combination of brand name and generic prescription drug offerings on our list at the most affordable cost—customers experience up to 80% cost savings compared to other providers.
If the lack of human interaction is part of the reason you are hesitant to use an online pharmacy, MyDrugCenter can put your mind at ease. They're open 7 days a week, offer customer service by phone or email, and provide pharmacist counseling for individuals who need it to fulfill their prescriptions stress-free.
For those who have ordered from MyDrugCenter before and/or are comfortable with the 100% online ordering process, the online ordering page offers easy-to-use functionality for finding the medications you need, adding them to your cart, and checking out with ease.
MyDrugCenter is CIPA-certified and committed to secure, always-encrypted transactions that keep customers' data safe.
Northwest Pharmacy
Northwest Pharmacy is one of the longest-established online Canadian pharmacies. It's backed by more than 400K customer reviews and a slew of certifications from CIPA and other entities, driving home its reputation as a trustworthy provider.
It has the widest set of drug offerings of all pharmacies on our list, as it provides many OTC and pet medications in addition to top prescription drugs. Like MyDrugCenter, Northwest Pharmacy offers convenient online and by-phone ordering options.
Despite Northwest Pharmacy's reputation and inventory strengths, their prices are significantly higher for certain popular prescription medications. For example, an Eliquis prescription for 180 2.5mg pills costs $397 at MyDrugCenter but a staggering $724 at Northwest Pharmacy.
Pocket Pills
Pocket Pills makes our list and is known for having an extensive list of prescription medications, an easily-navigable website, and a convenient mobile app that allows customers to easily stay on top of their prescription refills and track their delivery orders.
It offers the same convenient online and phone ordering options as the previous two providers on our list and its lower price points are more comparable overall to MyDrugCenter's.
All that said—and despite positive ratings from its customers—Pocket Pills does not show CIPA certification on its website. Another significant drawback is that it only offers domestic shipping, meaning U.S. residents and other international customers can't purchase for home delivery.
In Conclusion
The pharmacies included on our list are all popular and reputable options, as are many others you can find searching the web. But if you're looking for the clearest combination of reputation, customer service, affordability, and prescription drug availability, MyDrugCenter is the clear industry leader.
MyDrugCenter serves thousands of patients in Canada and the U.S., providing the medications they need quickly and securely at the most affordable price points.
Visit our website to learn more about what we do, the prescription medications available at MyDrugCenter, and how to make your first order.
The information in the article is not meant to be used for treatment or diagnosis. It is designed for general awareness and for information purposes only. Always consult a medical professional for your specific healthcare needs.