Table of Contents
---
I. Why Do Americans Want to Buy Canadian Medications?
II. The Canadian Drug Approval Process
III. Challenges to Finding Quality Canadian Medications
---
Are Canadian medications safe? Can they be trusted the same way American prescription drugs can be? U.S. residents interested in ordering from Canadian pharmacies ask these questions all the time, and the answer is yes—Canadian medications are just as good as those sold in the U.S. and other developed countries.
In this article, we'll tell you why.
We'll explore some of the key benefits of ordering Canadian medications to the U.S., walk through the Canadian drug development and approval process, and explain how you can find a reputable, trustworthy Canadian pharmacy to order your prescriptions.
Quick Takeaways
Over the past two decades, the total value of pharmaceutical imports from Canada to the U.S. has increased exponentially.

The main driver behind growing demand from U.S. residents for Canadian medications is significant cost savings.

Other key motivators include accessibility, safety and quality assurance, need for drugs that may not be available yet in the U.S., and the convenience of online pharmacies.

Canadian medications undergo a rigorous approval process that ensures they're safe and meet all quality standards.

Rogue pharmacies sell unsafe drugs to consumers. It's essential to know how to identify that a pharmacy is reputable and can be trusted.
Why Do Americans Want to Buy Canadian Medications?
The total value of pharmaceutical products being imported from Canada to the U.S. has increased exponentially [1] over the past two decades, from under $1B in the late 1990s to nearly $6B in 2022.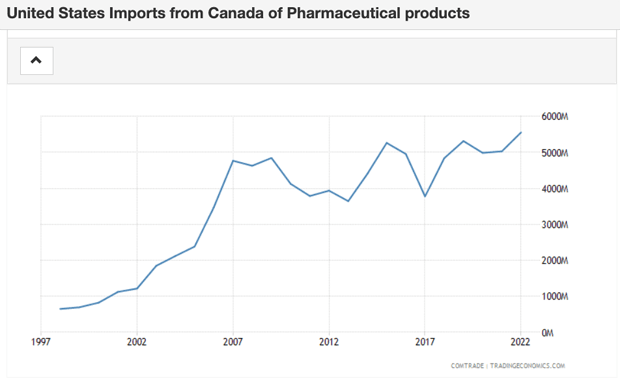 The top driver of this consistent growth in demand from the U.S. for Canadian medications is cost. Thanks largely to lax regulation of drug pricing, drug costs in the United States are higher than any other nation in the world, Canada included.
But cost savings is only one of many reasons Americans seek out Canadian medications as an alternative to those available domestically. Other notable incentives include:
Accessibility and Availability
Some medications may be more readily available in Canada, particularly if they haven't yet been approved or are in short supply in the United States. Patients may seek Canadian alternatives to ensure continuity of treatment, especially when they're facing delays or limited availability of specific drugs domestically.
Safety and Quality Assurance
Canada has a reputation for maintaining strict regulatory standards and ensuring the safety and efficacy of medications. Americans may perceive Canadian medications as being of higher quality and reliability than other foreign import options given Canada's robust healthcare system and stringent regulatory oversight.
Personal Healthcare Needs
In certain cases, individuals may require medications that are not approved or accessible in the U.S. They may turn to Canadian pharmacies to access these drugs, seeking alternatives that align better with their personal healthcare needs. Case-by-case approval is often needed in these situations to ensure legal compliance.
Convenience of Online Pharmacies
The rise of online pharmacies has made it easier for Americans to purchase medications from Canada. Online platforms provide a convenient and accessible way to order prescription drugs, allowing individuals to bypass geographic limitations and access a wider range of medications.
The Canadian Drug Approval Process
When you're evaluating whether or not Canadian medications are really "good"—AKA safe and reliable—it's essential to understand the full approval process for new drugs and the safety standards Canadian pharmacies are required to meet for both domestic and cross-border sales.
Health Canada is the organization responsible for overseeing health and safety for Canadians, including drug approvals and regulations. It assesses the safety, efficacy, and quality of all new drugs through a rigorous review process before granting market authorization.
Health Canada also monitors the safety of drugs once they are on the market and takes action if any safety concerns arise.
Their complete drug approval and monitoring processes involve:
Pre-Clinical Tests

— When a drug is initially developed, it undergoes a series of laboratory tests to determine potential biochemical, physiological, and behavioral effects and appropriate dosage

Clinical Trials

— If the drug proves to be non-toxic and initially achieves its desired result, its sponsor can apply to the Health Products and Food Branch (HPFB) of Health Canada to conduct a formal clinical trial. Plans for clinical trials (including pre-clinical test results, proposed trial methods, information on investigators conducting the trial, and dosage forms) are thoroughly reviewed by HPFB before a trial starts.

New Drug Submission

— Sponsor officially submits new drug information (including pre-clinical test and clinical trial results, production details, packaging and labeling details, and therapeutic and side effect information) to the Health Products and Food Branch for approval

HFPB Review

— Submission is reviewed extensively, often with the help of external consultants and advisory committees

Approval Notice

— If the benefits of the drug are deemed to outweigh risks, and risks can be minimized, it is issued a Notice of Compliance (NOC) and Drug Identification Number (DIN) and granted permission to be marketed and sold in Canada

Lab Testing

— Health Canada may perform additional tests after initial approval to monitor the drug's continued safety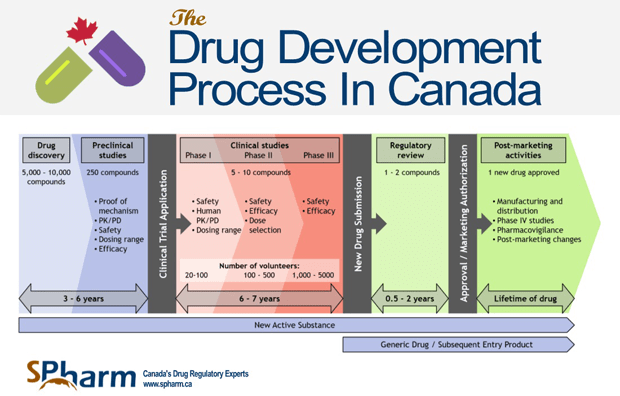 The full development and approval process can take up to 15 years, not including the continued monitoring and testing that occurs over the lifetime of the drug.
Drugs sold through reliable Canadian pharmacies, including online pharmacies that sell prescription drugs to U.S. and other non-domestic consumers, undergo this thorough approval process and thus can be trusted to be high-quality and safe.
Challenges to Finding Quality Canadian Medications
In order to find quality Canadian medications, it's essential to order from a trustworthy online pharmacy. Online ordering in any industry comes with its own set of risks not encountered with brick-and-mortar retail, and pharmaceuticals are no exception.
Rogue online pharmacies sell potentially dangerous prescription drugs to U.S. residents, including drugs that may not be at all the same drug they're marketed as.
It's essential to know what to look for in online Canadian pharmacies you consider ordering from to confirm that they're reputable and can be trusted. Be sure the pharmacy requires a doctor's prescription, shares an address and phone number, is licensed in their location, and has licensed pharmacists available who can answer your questions.
Always look for membership in the Canadian International Pharmacy Association (CIPA) [3], which is indicated through the CIPA logo displayed on a pharmacy's website.
The Takeaway
Canadian medications undergo thorough, painstaking approval processes to ensure that they're safe before being marketed and sold to consumers. If you're thinking about ordering prescription drugs from Canada, you can be assured that they meet the same levels of quality standards as those in the U.S.
The key—and this is a must—is to find a reputable pharmacy you can trust.
My Drug Center is a CIPA certified Canadian pharmacy that helps thousands of Americans save on their prescriptions every year. We're committed to fast delivery and unbeatable prices so you never have to stress about having the medication you need.
Learn more about how to order and save up to 80% on your medications today.