Table of Contents
---
I. 5 Reasons to Choose a Canadian Pharmacy
a. Canadian Pharmacies Offer Significantly Lower Prices
b. Canadian Pharmacies Have Strict Regulatory Oversight
c. Ordering From a Pharmacy in Canada is Safe and Legal
d. Mail-Order Canadian Pharmacies Deliver to Your Doorstep
e. Canadian Pharmacies Have a Wide Selection
II. How to Find a Canadian Pharmacy You Can Trust
---
Are you thinking about ordering from a Canadian pharmacy? If so, you're not alone. Thousands of U.S. consumers turn to Canadian pharmacies each year to fulfill their prescriptions at a lower cost than is available to them domestically.
But ordering from an international pharmacy naturally comes with questions about pricing, safety, legality, ordering processes, and much more.
In this quick guide, we'll answer all of these questions and outline 5 compelling reasons why ordering from a Canadian pharmacy could be the best option for you.
Quick Takeaways
Canadian pharmacies offer prescription drugs at a much lower price than the U.S.
Reputable Canadian pharmacies follow strict safety guidelines set by the Canadian International Pharmacy Association (CIPA).
Convenient delivery from mail-order pharmacies in Canada saves time and lowers stress.
Importing prescription drugs from Canada is safe, legal, and even encouraged by the U.S. federal government to widen access to cost savings.
To find a reputable Canadian pharmacy, look for the CIPA logo, transparent information about drug sourcing, and clear order fulfillment processes.
5 Reasons to Choose a Canadian Pharmacy
Canadian Pharmacies Offer Significantly Lower Prices
U.S. consumers are faced with the highest prescription drug prices in the world—and it's not close. Research estimates that, on average, U.S. drug prices are more than double the average of other developed countries. [1]
That means if you live in the U.S., ordering your prescriptions from across the border in Canada will translate to serious cost savings.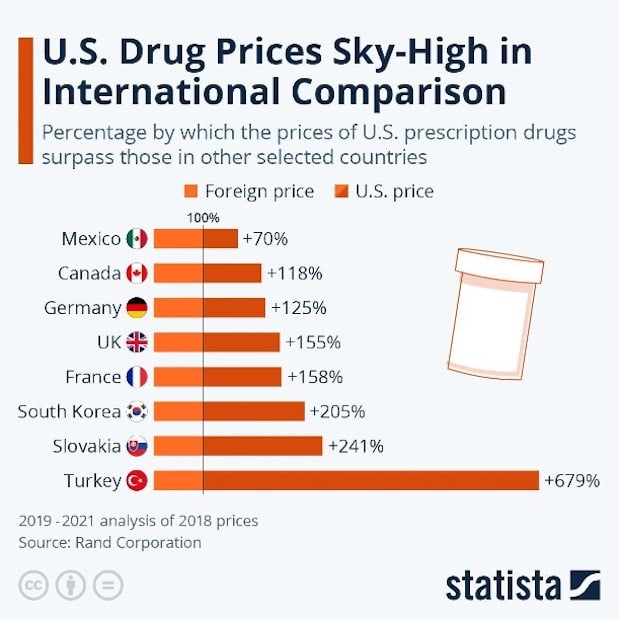 Mail-order pharmacies in Canada offer even more significant savings because they source their medications from reliable pharmacies around the world to access the best prices possible. At the same time, they save on the overhead costs related to operating a brick-and-mortar store and dealing with insurance providers.
These cost savings are then passed on to U.S. consumers, who can purchase the prescriptions they need at a fraction of the price they'll find domestically.
Canadian Pharmacies Have Strict Regulatory Oversight
Safety is paramount when ordering prescription drugs. Reliable online Canadian pharmacies are certified by the Canadian International Pharmacy Association (CIPA) and prominently display the CIPA logo on their websites (you can see it below). [2]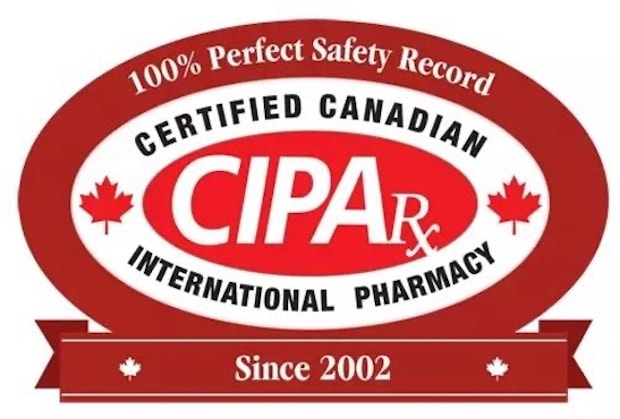 CIPA partners with regulators, pharmacists, physicians, patients, government officials, and other consumer special interest groups to enforce their safety standards. They've maintained a 100% perfect patient safety record for more than 20 years.
When you see the CIPA logo on a Canadian pharmacy website, you know it's one you can trust.
Ordering From a Pharmacy in Canada is Safe and Legal
Understandably, U.S. consumers have concerns about the legality of ordering prescription drugs from an online Canadian pharmacy. It's important to know that ordering prescription drugs from Canada is both safe and legal—and even encouraged by the United States government.
The Trump and Biden administrations have both worked to make it possible for Americans to order their prescriptions from international providers. A recent executive order from the Biden White House asked the FDA to work with states to expand prescription drug import options.
The order specifically promoted "competition and innovation by firms small and large, at home and worldwide." [3]
Mail-Order Canadian Pharmacies Deliver to Your Doorstep
For consumers with busy schedules and/or limited mobility, getting to the pharmacy to refill a monthly prescription can be difficult. By ordering through an online pharmacy in Canada, you'll not only save money, but you'll also save time and stress.
Prescriptions ordered online are typically delivered in just a few weeks (it's important to note this lead time when planning your order) and arrive right at your front door.
Canadian Pharmacies Have a Wide Selection
The United States has the most extensive patent protection laws in the world. Pharmaceutical companies often maintain market exclusivity for years longer than in other countries. That means the generic versions of certain prescription drugs, which are much more affordable than brand-name versions, are available internationally but not in the U.S.
For example, MyDrugCenter offers both the generic and brand-name versions of Eliquis, a popular anticoagulant drug that treats patients with deep vein thrombosis (DVT) and pulmonary embolism (PE), among other conditions.
But in the U.S., generic Eliquis won't be available for another 5 years, in mid-2028. However, the FDA did approve generic Eliquis for safety, meaning U.S. consumers can legally order and import it from a pharmacy in Canada.
This can translate to thousands of dollars in yearly cost savings for the average consumer, even those with Medicare or insurance.
Eliquis is just one example. Canadian pharmacies have a wide selection of both brand-name and generic drugs—some you can't get domestically in the U.S.—at a much lower retail price.
How to Find a Canadian Pharmacy You Can Trust
Despite the high standards maintained by CIPA certification, there are rogue online pharmacies (in Canada and everywhere in the world) that ignore these standards and sell prescription drugs without regulatory oversight.
Fortunately, there are some key indicators you can look for to ensure you're ordering from a reputable pharmacy. First is the CIPA certification, which we've already covered. Remember to look for the CIPA logo on the pharmacy's website to indicate it's been accredited.
Reliable online pharmacies will always require a prescription from your doctor, and they have real pharmacists available to answer your questions when needed. If either of these indicators is missing, you may want to look at other options.
Finally, reliable pharmacies are transparent about their drug sourcing. They usually have the manufacturer listed on a drug's ordering page. As you can see below, MyDrugCenter sources generic Eliquis from Natco Pharma and brand-name Eliquis from Bristol-Myers Squibb.
Both are listed clearly right underneath the order form. You can also see a reminder that a prescription is required in the same area.

Putting it All Together
There are many benefits to choosing an online Canadian pharmacy, including:
Greater affordability
High safety standards
Convenience of delivery
Wide generic selection
By ordering from a pharmacy in Canada, you access cost savings while knowing you're receiving reliably-sourced medications—all without having to leave your home.
But remember: It's up to you as the consumer to check for the indicators we discussed in this article and ensure you're choosing a reputable provider. Check for the CIPA logo and transparent information about drug sourcing. Look out for red flags such as failure to ask for a prescription or a lack of available pharmacists to answer your questions.
The best Canadian pharmacies will never hesitate to give you the information you need and will be 100% transparent about their processes, from initial drug sourcing through to final delivery.
MyDrugCenter is a CIPA-certified Canadian pharmacy helping thousands of customers save on their prescriptions each year. Visit our website to learn how we can help you save up to 80% on your next prescription.
The information in the article is not meant to be used for treatment or diagnosis. It is designed for general awareness and for information purposes only. Always consult a medical professional for your specific healthcare needs.