Table of Contents
---
I. Why Use a Mail-Order Pharmacy?
II. Mail-Order Pharmacies in Canada
III. Why Customers Choose My Drug Center
IV. Ordering From My Drug Center
---
Mail order pharmacies have revolutionized the way people access their prescriptions. With the option to have medications delivered right to their doorstep, individuals no longer have to visit brick-and-mortar pharmacies and can access other compelling benefits, like cost savings and an added layer of medical privacy.
In Canada, mail-order pharmacies have a top reputation for safety and reliability, and they serve thousands of customers domestically, in the U.S., and around the world.
But with so many options available in a crowded online marketplace, it's essential for consumers to know how to find a reputable prescription provider.
In this article, we'll cover what to know about mail-order pharmacies in Canada, plus why My Drug Center is one of the best options for both brand-name and generic prescription drugs.
Quick Takeaways
Mail-order pharmacies are growing in popularity worldwide. The market is expected to grow by 4X from its 2020 value by 2028.

Benefits of mail-order pharmacies include the convenience of home delivery, cost savings, bulk order capabilities, and an added layer of privacy.

Canadian mail-order pharmacies are known for their safety, reliability, and safety standards.

My Drug Center is a CIPA-certified, online mail-order pharmacy providing brand-name and generic prescription drugs.

U.S. customers can achieve significant cost savings importing prescription drugs from Canadian pharmacies like My Drug Center.
Why Use a Mail-Order Pharmacy?
Mail-order pharmacies offer a convenient, efficient, and trustworthy way to access prescriptions without ever having to leave your home. They're becoming an increasingly popular options for a few reasons:
Convenience of Delivery

— Prescriptions can be delivered to your front door without the need to visit a brick-and-mortar pharmacy. This is particularly beneficial for individuals with mobility limitations and those living in rural areas.

Cost Savings

— Without the overhead costs of running a physical store, mail-order pharmacies are able to offer medications at lower prices.

Bulk Orders

— Patients with long-term or chronic medication needs can order medications in bulk quantities, eliminating the need for frequent refills and ensuring a consistent supply.

Privacy

— Anyone who feels uncomfortable discussing their medical conditions in person will appreciate the added level of confidentiality and

discreteness

online ordering provides.

Medication Management Services

— Mail-order pharmacies offer automated reminder options and other helpful management services, like personalized dosing instructions and 24/7 access to pharmacists to ask questions.
Thanks to these benefits, the global online pharmacy market is growing. It's predicted to reach $216.40B worldwide [1] by 2028—more than 4X its value of $52.42B in 2020.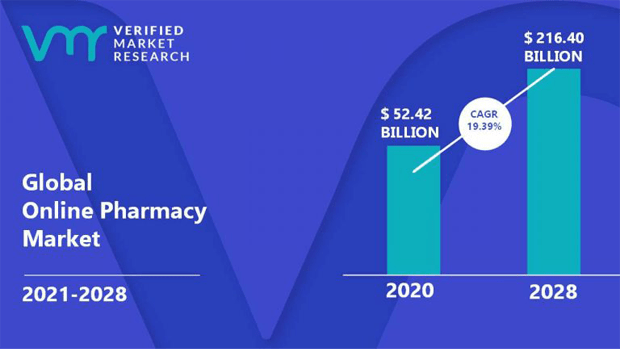 Mail-Order Pharmacies in Canada
Mail-order pharmacies in Canada are known for their safety, reliability, and stringent adherence to privacy and security standards.
They're especially popular with U.S. residents who want to avoid the notoriously high price of prescription drugs in the United States and access their medications from a safe, legal provider.
Increasingly, the U.S. government is showing support for this option and has made accessibility to mail-order pharmacies in Canada a bigger priority.
The domestic use of mail-order pharmacies in Canada is also growing as people's trust in online prescription fulfillment increases. In fact, 53% of Canadians [2] who had not used online pharmacies before 2020 are now doing so for a more convenient experience.
Why Customers Choose My Drug Center
Not all mail-order pharmacies are created equal, and it's critical for consumers to know what to look for when they search for a prescription provider. Reputable mail-order pharmacies in Canada are licensed and CIPA-certified, require a prescription from your doctor, and should have qualified pharmacists available to answer your questions.
My Drug Center is a trusted CIPA-certified online pharmacy in Canada serving customers in both Canada and internationally. We fulfill prescriptions quickly, safely, and securely through our network of international suppliers—all fully licensed and certified in their respective countries.
When ordering from My Drug Center, customers can be secure in the knowledge that they'll get their prescriptions in a timely fashion, and that they can always trust the source.
Here are just a few of the reasons customers choose My Drug Center:
Cost Savings — My Drug Center offers brand-name and generic prescription drugs at a fraction of the cost for U.S. residents and for Canadian customers using brick-and-mortar pharmacies.
Reputation — As a CIPA-certified pharmacy, customers know their medications are safe and come from trustworthy sources.
Vetted Network — You never have to look further than My Drug Center when you're ordering your prescriptions. We have stringent standards for our suppliers and vet their licenses and certifications.
24/7 Service — My Drug Center's customer service team is available 7 days a week to answer questions and guide you through the ordering process.
Convenient Ordering Process — Whether you prefer to order online or by phone, the process is easy with My Drug Center.
Pharmacist Counseling — Our licensed pharmacists are available for medical advising about your prescriptions when needed.
SSL Encrypted Transactions — Private personal data is 100% secure in every transaction.
Ordering From My Drug Center
You can order from My Drug Center in a few simple steps.
Start on our online ordering page. Search for your medication and add it to your cart.
Create your account (this only takes a few minutes).
Mail your prescriptions for the items you order.
Wait for your prescription to arrive! Remember, we're always here to answer questions along the way.
To order by phone, you can call us at 1-877-385-8998.
To learn more about My Drug Center, visit our website or contact us any time.