Table of Contents
---
I. An Overview of Generic Viagra
II. Why Buy Generic Viagra Online?
III. Ordering Generic Viagra From a Canadian Pharmacy
IV. Finding the Right Pharmacy to Order Generic Viagra Online
b. Transparent Sourcing and Ordering
d. Promise of Secure Transactions
f. Positive Reviews and Track Record
---
Since its approval nearly a decade ago, generic Viagra has overtaken its brand-name counterpart in global markets, and for good reason. It offers the same benefits at a lower price—the ultimate benefit for consumers.
Today, ordering generic Viagra online is an especially popular option thanks to added privacy and convenience benefits. The process is easy and secure and ends in home delivery right to your door.
If you're thinking about ordering your generic Viagra prescription from an online pharmacy but aren't sure where to start, you've come to the right place.
We'll cover everything you need to know about finding a pharmacy you can trust and access the best price for your prescription online.
Quick Takeaways
Generic Viagra has the same active ingredients and therapeutic benefits as brand-name Viagra but at a significantly lower price.
Since generic Viagra was approved in the mid-2010s, brand-name Viagra sales have dropped considerably and steadily over time.
Brand-name and generic Viagra cost nearly $1000 less in Canada than in the U.S.
Canadian online pharmacies are the best option for individuals to get Viagra from a reputable source at the lowest possible cost.
An Overview of Generic Viagra
The generic version of Viagra is called sildenafil. It shares the same active ingredient (sildenafil citrate) and works in the same way as brand-name Viagra, but, like most generic prescriptions, is available at a much more affordable cost.
Brand-name Viagra has been FDA-approved and available on the market for 25 years, but patent exclusivity didn't expire in the United States until 2017. That means generic Viagra has only been available for five years.
Unsurprisingly, once generic Viagra got approval, global brand-name Viagra sales quickly began a downward trajectory.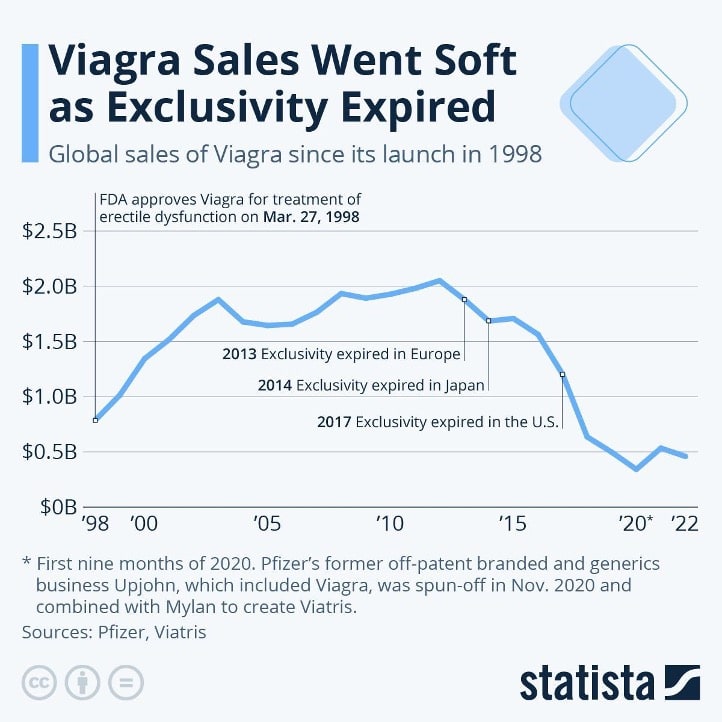 This trend is no doubt due to generic sildenafil's ability to provide the same therapeutic benefits at a much lower price. In the U.S., for example, the average retail cost* of brand-name Viagra is more than $2000 for 30 100mg pills. The generic version retails for less than $1500, on average, for the same quantity and dosage.
*Price estimates calculated as of August 2023 from various U.S. pharmacies.
Why Buy Generic Viagra Online?
The popularity of mail-order pharmacies is growing thanks to benefits like the convenience of home delivery and the cost savings online pharmacies can offer since they don't have the same overhead as brick-and-mortar stores.
But the allure of online ordering for individuals taking Viagra goes beyond convenience and costs. Ordering from an online pharmacy offers extra privacy not possible when you fill your prescriptions in person.
Given the sensitivity many feel dealing with erectile dysfunction, it's understandable why many choose to fill their prescriptions online now that the option is available.
Finally, ordering prescription drugs online also allows consumers to shop for the best price available beyond pharmacies in their immediate geographic location.
Ordering Generic Viagra From a Canadian Pharmacy
Ordering generic Viagra online from a Canadian pharmacy is the surest way to earn optimal cost savings on your prescription. The price difference for both brand-name and generic Viagra in the U.S. and Canada is a staggering $1000+.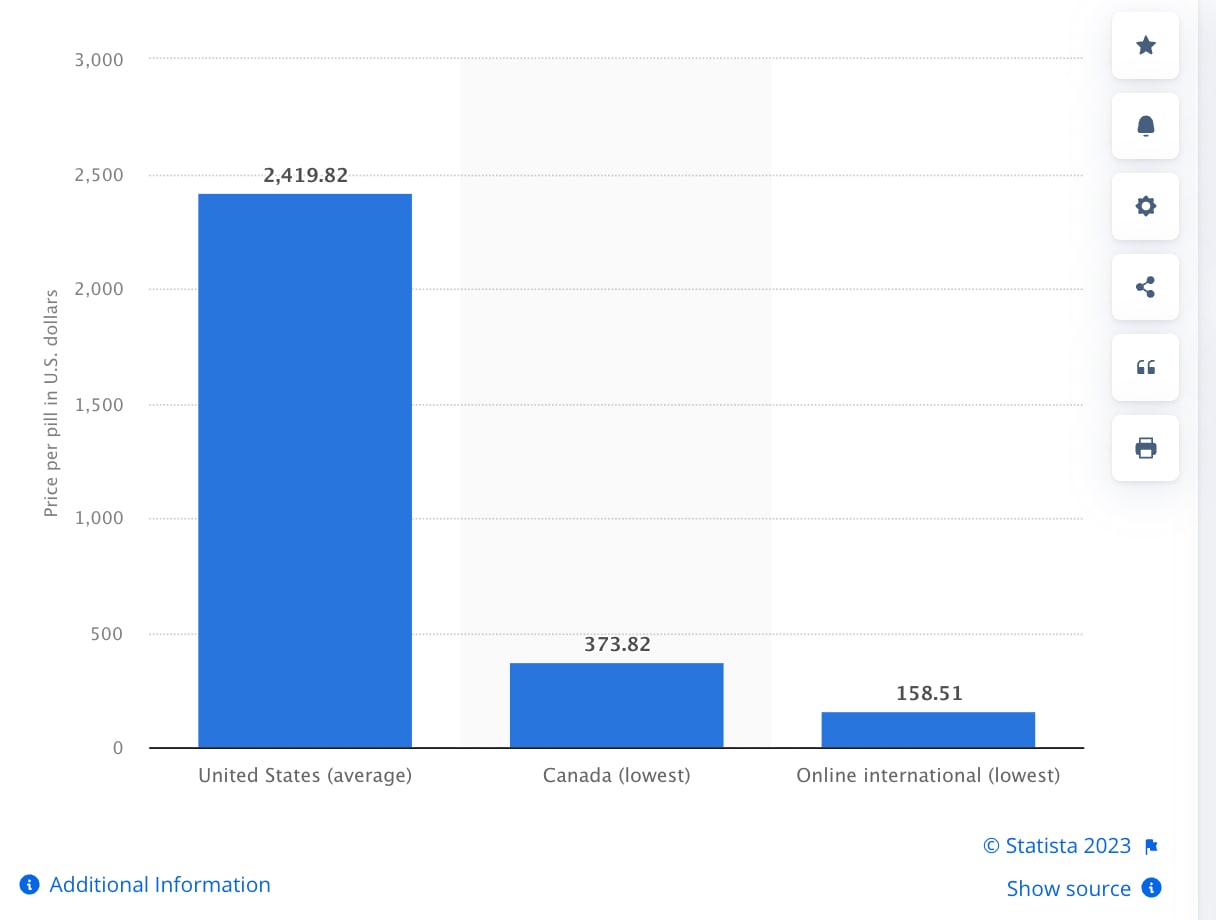 And while the chart above may show other international pharmacies offering the lowest prices of all, there's a reason prescription drug takers view Canadian pharmacies as the best choice.
Not only do Canadian pharmacies offer extreme cost savings, but they're also held to strict safety standards and regulations. The Canadian International Pharmacy Association (CIPA), the entity that oversees online pharmacies in Canada, still has a 100% perfect safety record in its third decade of operation.
Finding the Right Pharmacy to Order Generic Viagra Online
Not all online pharmacies are created equal. Unfortunately, rogue pharmacies exist that sell unsafe and counterfeit medications and put consumers' personal information at risk. It's critical to know the indicators of a reputable pharmacy before you order generic Viagra online.
Specific things to look for include:
CIPA Certification
Reputable online Canadian pharmacies are CIPA-certified, and they'll prominently display the logo on their websites (pictured below) to let you know their certified status.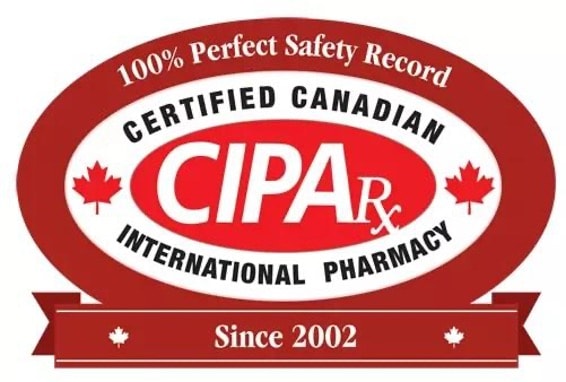 Transparent Sourcing and Ordering
Trustworthy online pharmacies are clear and transparent about their prescription drug sourcing and ordering processes. In many cases, you'll be able to see the manufacturer that provided the inventory of a specific drug right on the pharmacy website.
Further, reputable pharmacies are honest about their ordering timelines (i.e. processing and delivery) and follow through on what they tell you.
Prescription Requirement
Generic Viagra requires a prescription, just like the brand-name version. Every reputable online pharmacy will require you to share that prescription with them to fulfill your order.
It's important not to be hoodwinked by pharmacies who don't ask for a prescription just because it makes the ordering process slightly easier. It's a clear risk factor that the pharmacy may not follow other safety standards.
Promise of Secure Transactions
Fulfilling a prescription online requires sharing sensitive personal information. Be sure that the pharmacy you order from guarantees a secure and encrypted transaction to protect you as the consumer.
Pharmacist Availability
Reputable online pharmacies have actual pharmacists on staff who talk to customers about their prescriptions, answer questions, and help guide them through the ordering process as needed.
Positive Reviews and Track Record
Last but definitely not least, look for positive reviews about the pharmacy online. Pharmacies with strong track records usually share them right on their website—they'll display and link to positive reviews from current customers.
It's also important, however, to find objective external sources to confirm those positive reviews and be sure the pharmacy is serving customers well.
Over to You
Generic viagra is equally as safe and effective as the brand-name version. Going the generic route grants you access to lower prices, and ordering generic Viagra online can help you save even more.
Online Canadian pharmacies like My Drug Center are known for their cost savings, exceptional service, convenient delivery, and high reliability.
To learn more about how My Drug Center can help you save on your Viagra prescription, contact our team today.
The information in the article is not meant to be used for treatment or diagnosis. It is designed for general awareness and for information purposes only. Always consult a medical professional for your specific healthcare needs.