Table of Contents
---
I. Understanding Viagra's Mechanism of Action
II. Can You Take Half a Viagra?
a. The Short Answer: You Should Not
b. Effectiveness and Risks of Taking Half a Viagra
III. Consulting a Healthcare Professional
IV. What to do if Cost is Your Concern
---
Viagra is the brand name for the generic drug sildenafil, which is widely recognized for its role in treating erectile dysfunction (ED) in men. It has revolutionized the lives of countless individuals struggling with sexual performance issues. But it's also a medication many try to manage independently, with less or no guidance from their doctors.
One of their most common questions is about dosage. More specifically: Can you take half a Viagra?
In this article, we'll explore everything you need to know before you decide. We'll cover the science behind Viagra, recommended dosage, potential benefits and risks, and the importance of consulting your doctor before making any adjustments to your medication regimen.
Quick Takeaways:
Viagra (sildenafil) works by inhibiting the PDE5 enzyme, increasing blood flow to the penis.
The most common dosage is 50mg, and adjusting it, especially by taking half a pill, can impact its effectiveness and increase the risk of side effects.
It's best to talk with your doctor about any potential Viagra dosage changes or related concerns.
My Drug Center offers convenient ordering and home delivery for both brand-name Viagra and generic sildenafil, both at a fraction of U.S. prices.
Understanding Viagra's Mechanism of Action
In order to understand the implications of taking half a Viagra pill, it's important to first grasp how Viagra works from a physiological standpoint.
Viagra belongs to a drug class known as phosphodiesterase type 5 (PDE5) inhibitors. These medications work by blocking the action of an enzyme called PDE5, which can constrict blood vessels in the penis. By inhibiting PDE5, Viagra promotes the relaxation of blood vessel walls, allowing increased blood flow to the penis, ultimately facilitating an erection.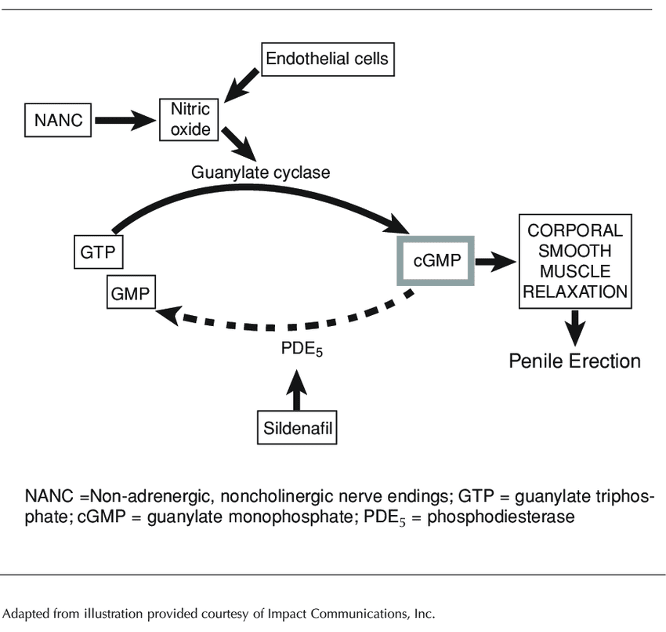 The standard recommended dose of Viagra is 50 milligrams (mg), taken approximately one hour before sexual activity. However, the dose can range from 25 mg to 100 mg, depending on individual factors such as age, overall health, and the severity of erectile dysfunction.
It's worth noting here again that dosage should be adjusted under the guidance of a healthcare provider.
Can You Take Half a Viagra?
The Short Answer: You Shouldn't
Given that Viagra tablets are available in various strengths, some users wonder whether taking half a pill to achieve the desired effect is acceptable. Splitting a pill can seem like a convenient way to potentially reduce costs and minimize potential side effects. However, it's essential to approach this with caution.
Viagra tablets are not designed to be split. They are formulated to ensure the even distribution of their active ingredient throughout the tablet. Cutting a tablet in half may lead to uneven dosing, as the medication may not be evenly distributed, potentially impacting Viagra's effectiveness.
Effectiveness and Risks of Taking Half a Viagra
Taking half a Viagra pill might not yield the desired results, as the intended therapeutic effect may be compromised due to uneven dosing. Erectile dysfunction is a complex issue, and altering the dosage without medical supervision could lead to disappointment and frustration.
Moreover, taking an incorrect dosage of Viagra, whether more or less than recommended, can increase the risk of experiencing side effects. Common side effects of Viagra include headache, flushing, nasal congestion, and indigestion. While these side effects are generally mild and short-lived, incorrect dosing can exacerbate them.
Further, adjusting the dosage without appropriate medical consultation might not adequately address underlying health concerns that contribute to erectile dysfunction.
Consulting a Healthcare Professional
Before making any changes to your medication regimen, including altering your dosage of Viagra, it's imperative to consult a healthcare professional.
A qualified doctor can evaluate your overall health, assess the severity of your erectile dysfunction, and provide personalized recommendations. They can help determine the appropriate dosage, considering your medical history, potential interactions with other medications, and any underlying health conditions.
Being honest with your healthcare provider about your experiences and concerns is essential. They can guide you through potential alternatives if Viagra's current dosage isn't providing the desired results. Your doctor might also suggest lifestyle changes to complement the medication's effects, such as exercise, a balanced diet, stress management, and avoiding smoking and excessive alcohol consumption.
What to Do if Cost is Your Concern
If your primary reason for wanting to halve your Viagra dosage is to save money, it's important to know that more affordable alternatives exist to traditional pharmacies—especially those in the United States, where Viagra is known to be expensive.
Canadian online pharmacies like My Drug Center offer both brand-name Viagra and generic sildenafil at a fraction of the U.S. retail cost. Even better, you can access more privacy through online ordering and greater convenience with home delivery. This trifecta can help you significantly reduce the stress you might be having related to your Viagra prescription.
At My Drug Center, the cost of 24 50mg Viagra pills is just $237 (compared to well over $1000 in many U.S. pharmacies). Generic sildenafil is even cheaper at My Drug Center—just $39 for the same dose and quantity.
Final Thoughts
While the idea of taking half a Viagra pill might seem like a way to experiment with dosage and reduce potential side effects, it's crucial to approach this decision with caution. Viagra is a potent medication designed to treat erectile dysfunction, and dosage changes should always be made under the guidance of a doctor. Uneven dosing can impact the effectiveness and increase the risk of side effects.
The best course of action is to have an open and honest conversation with a medical provider who can help tailor the treatment to your individual needs. By prioritizing safety and seeking professional advice, you can optimize the benefits of Viagra while minimizing potential risks, ultimately enhancing your overall sexual well-being.
And, if cost is one of your top reasons for looking at potential dosage changes, My Drug Center is here to help. We serve thousands of customers annually, helping them save up to 80% on their prescriptions, including Viagra and sildenafil.
Visit our website to learn more about how you can save on your next prescription order.
The information in the article is not meant to be used for treatment or diagnosis. It is designed for general awareness and for information purposes only. Always consult a medical professional for your specific healthcare needs.