Table of Contents
---
II. Canadian Pharmacies as a Leading Viagra Provider
III. Getting Viagra from a Canadian Pharmacy
IV. Ordering From My Drug Center
---
Since it came onto the market in 1998, Viagra has become far and away the most popular prescription drug to treat erectile dysfunction (ED). Nearly 3 million Viagra prescriptions are given every year in the United States alone. [1]
But despite its proven effectiveness and widespread popularity, accessibility remains a challenge for many. For many men, the primary barrier to accessing Viagra is its prohibitive cost. Canadian pharmacies have emerged as a leading solution to this problem.
In particular, online Canadian pharmacies offer Viagra at a significantly lower cost than brick-and-mortar counterparts—especially those located in the United States.
In this article, we'll explore Canadian pharmacies as a top provider of Viagra, prescription requirements and pricing, how to find a pharmacy you can trust, and steps to completing your next Viagra order.
Quick Takeaways:
Ordering Viagra from a Canadian pharmacy can save U.S. consumers more than $2000 per prescription. Generic sildenafil offers even greater cost savings.
Canadian online pharmacies are known for their high safety standards and reliability.
Ordering Viagra online adds an extra layer of privacy by eliminating face-to-face interactions.
Viagra and sildenafil always require a prescription. Pharmacies that don't request a prescription are not reputable and likely unsafe.
Understanding Viagra: How it Works, Uses and Benefits, and Safety Considerations
Viagra's Mechanism of Action
Viagra, also known as sildenafil, operates through its active ingredient, sildenafil citrate, which inhibits the enzyme phosphodiesterase type 5 (PDE5). When a man experiences sexual arousal, nitric oxide is
released in the penile tissues, triggering the production of guanosine monophosphate (cGMP).
This cGMP relaxes the smooth muscles within the penile arteries, facilitating increased blood flow that culminates in an erection. Ordinarily, PDE5 breaks down cGMP, but Viagra blocks this process, preserving elevated cGMP levels and enabling the individual to sustain an erection for a longer period of time.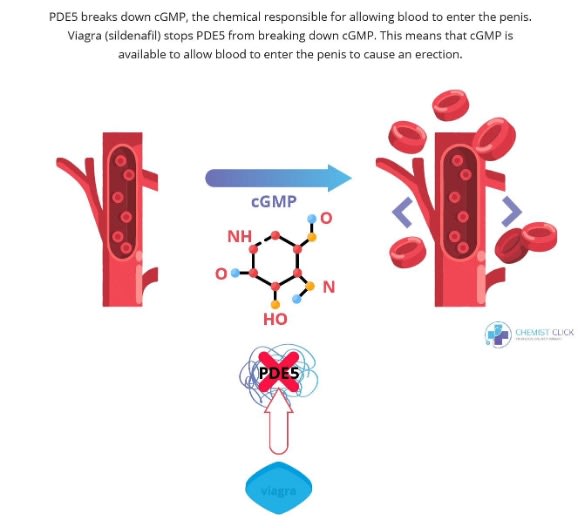 Common Uses and Benefits
Viagra is primarily taken to treat erectile dysfunction. Typically, Viagra is taken on an as-needed basis, shortly before anticipated sexual activity, at a of 50 milligrams (this dosage may be adjusted based on the individual's response and any potential side effects).
Erectile dysfunction can stem from a variety of factors, including other health issues, stress, or age-related changes. For those experiencing ED, Viagra can provide a renewed sense of confidence and an improved overall quality of life. By enabling sexual intimacy, it can enhance emotional and psychological well-being, fostering stronger intimate relationships and bolstering self-esteem.
Ensuring Safe and Legal Access
As with any medication, it's imperative to obtain Viagra safely and legally, with an official prescription from a healthcare provider. This step can be challenging for many men due to the sensitive nature of ED, and the natural hesitation to talk openly about it.
It's important to note, however, that any pharmacy offering Viagra without a prescription can not be trusted. Because Viagra can cause side effects and interact with other medications, taking it under the guidance of a doctor is a must.
Canadian Pharmacies as a Leading Viagra Provider
Convenience and Growth of Canadian Online Pharmacies
In recent years, Canadian online pharmacies have risen to prominence as a convenient and accessible source for a wide range of medications, including Viagra. As the digital era has ushered in new consumer preferences for online pharmacy options—a trend that was accelerated by the pandemic—Canadian pharmacies have consistently been ahead of the curve.
In particular, they've been an attractive option for U.S. consumers, who are subject to inordinately high domestic prescription drug prices, driven up by market exclusivity rights that benefit the pharmaceutical companies but increase the cost burden on consumers.
Why Canadian Pharmacies are Known as the Most Reputable
Canadian online pharmacies have a reputation for being safe and trustworthy, thanks to rigorous safety standards enforced by Health Canada and the Canadian International Pharmacy Association (CIPA). CIPA has a 100% perfect safety record in its nearly three decades of operations.
Benefits of Canadian Online Pharmacies
In addition to high safety standards, Canadian mail-order pharmacies offer benefits that are of particular interest to men taking Viagra. Convenient online ordering and home delivery make it easy to fill and refill prescriptions while adding an extra layer of privacy by reducing face-to-face interactions.
Further, Canada is significantly more affordable than the United States. According to Statista, the average retail price for 30 Viagra pills in the U.S. is a whopping $2,419, compared to just $373 in Canada. [3] Because Medicare and private insurance providers often don't cover Viagra because they don't deem it medically necessary, U.S. prices are simply out of reach for many consumers.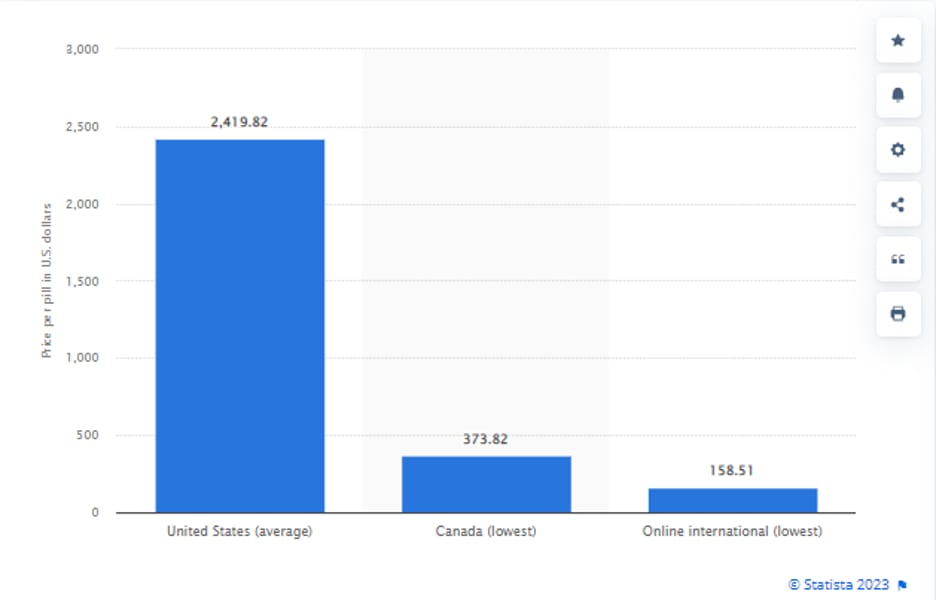 Getting Viagra from a Canadian Pharmacy
Getting Viagra from a Canadian pharmacy is 100% safe and legal for United States residents when you follow the correct steps and order it through reliable channels. That means:
Getting an official prescription from your doctor
Finding a reputable and CIPA-certified Canadian online pharmacy
Submitting your prescription when you order
Following refill instructions from your doctor or pharmacist
It's important to note that generic Viagra is also available from Canadian pharmacies, works through the same mechanism and active ingredients, and can deliver even more cost savings to the consumer.
At My Drug Center, for example, 24 50mg Viagra pills is just $237. This is a significantly lower price than what you'd find in the United States—but, the generic version is just as effective and costs only $39.

Ordering From My Drug Center
My Drug Center is committed to providing safe, secure, and convenient access to prescription drugs for people around the world. Every year, we help thousands of customers save up to 80% on prescriptions, eliminating the stress that too often comes with accessing medications.
Visit our website to learn more about ordering your next prescription from My Drug Center.
DISCLAIMER: The information in the article is not meant to be used for treatment or diagnosis. It is designed for general awareness and for information purposes only. Always consult a medical professional for your specific healthcare needs.