Table of Contents
---
II. Is Xarelto Covered By Medicare? 5 Things to Know
III. Canadian Online Pharmacies: An Affordable Alternative
---
Is Xarelto covered by Medicare?
For many patients new to taking the drug, it's one of the first questions they ask. The short answer is yes, Medicare does subsidize the cost of Xarelto.
But you need the right type of coverage, and prescription drug benefits vary depending on the specific plan you choose. It's essential to know which details to look for when you're choosing a plan to ensure that you understand your out-of-pocket costs for Xarelto and other drugs you're prescribed.
In this guide, we'll explore Medicare's Xarelto coverage in detail, and share helpful information you can use to evaluate your Medicare prescription plans for any scenario.
Quick Takeaways:
Only Medicare Part D and Medicare Advantage plans offer prescription drug coverage.
Xarelto is generally categorized in Tier 3 on Medicare drug formularies, which means it requires a higher copay than many other prescriptions.
Medicare beneficiaries have more than 50 prescription drug plans to choose from.
Right now, there is no generic version of Xarelto available in the United States.
Canadian online pharmacies like My Drug Center do offer generic Xarelto at a significantly lower cost than the brand-name version.
What is Xarelto?
Xarelto is a widely-used anticoagulant medication that prevents the formation of dangerous blood clots within the body. Xarelto is a factor Xa inhibitor, which means it reduces the blood's capacity to form clots and decreases the risk of potentially life-threatening conditions like strokes, deep vein thrombosis (DVT), and pulmonary embolism (PE).
It's classified as a direct oral anticoagulant (DOAC), offering a distinct advantage over more traditional anticoagulants, like warfarin. Unlike warfarin, which requires frequent monitoring and dose adjustments, Xarelto offers a fixed-dose regimen, making it more straightforward for patients to manage. This aspect has significantly improved patient adherence and reduces the need for constant blood tests.
Is Xarelto Covered By Medicare? 5 Things to Know
Navigating Medicare coverage can feel like a daunting task, especially if you're new to the process or if Xarelto is one of your first long-term prescriptions. In this section, we'll cover must-know essentials about how Medicare covers prescription drugs, and how to determine your out-of-pocket costs for Xarelto.
1. Only Medicare Part D and Medicare Advantage Plans Cover Xarelto
Medicare Part A (hospital coverage) and Part B (medical coverage) do not cover prescription drugs. To get coverage for your Xarelto prescription, you must enroll in Medicare Part D or a Medicare Advantage plan that includes prescription drug coverage.
Depending on your specific plan, Part D and Medicare Advantage prescription plans may include monthly premiums, prescription copays, annual deductibles, and coinsurance costs.
Each Part D or Advantage plan will have its own list of covered medications, called a formulary, which may categorize Xarelto differently in terms of cost-sharing with the consumer. This means it is important to compare plans and find one that aligns with your specific healthcare needs and budget.
Fortunately, Medicare beneficiaries have options when it comes to prescription drug coverage. In 2022, they had more than 50 plans to choose from between Part D and Medicare Advantage. [1]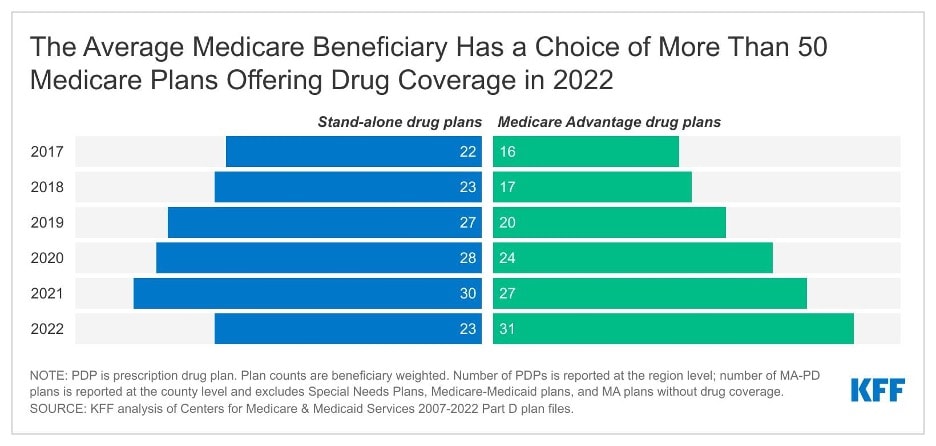 2. Xarelto is Tier 3 in Most Part D Formularies
Medicare's drug formularies categorize medications into the following tiers: generic drugs, preferred brand-name drugs, non-preferred brand-name drugs, and specialty drugs. Each tier has different levels of cost sharing requirements (i.e. copay amounts, coinsurance percentages, etc.).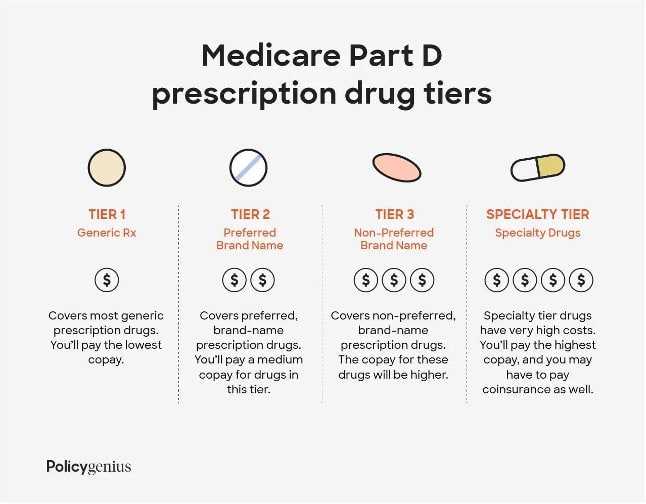 Xarelto falls into either Tier 3 in most Part D formularies. According to the Medicare website, this means it's listed as: "higher copayment: non-preferred, brand-name prescription drugs." [3]
Understanding your Part D plan's formulary is crucial, as it dictates your out-of-pocket cost obligations. It's also advisable to conduct an annual review of your Part D plan during the Medicare Open Enrollment period to ensure your chosen plan continues to provide favorable coverage for Xarelto.
3. Some Plans Require Prior Authorization and Step Therapy
While Xarelto is covered by Medicare Part D, some plans require certain prerequisites before granting access to the medication in the form of prior authorization or step therapy.
Prior Authorization
Under prior authorization, your healthcare provider must provide additional information to your Part D plan to demonstrate the medical necessity of Xarelto for your specific condition. While this process can add some administrative steps to obtaining your medication, it is generally straightforward if Xarelto is deemed medically appropriate.
Step Therapy
Some Part D plans require step therapy, which involves trying a lower-cost alternative medication before Xarelto. The goal is to ensure that the most cost-effective treatment is used when suitable. If you've already been prescribed Xarelto and your plan requires step therapy, communicate with your healthcare provider and insurance company to address this requirement effectively.
Understanding these potential hurdles and discussing them with your doctor can help you navigate the process more smoothly and minimize delays in accessing Xarelto.
4. Extra Help is Available for Some Medicare Beneficiaries
Managing healthcare and prescription costs can be especially challenging for Medicare beneficiaries with limited income and resources. Fortunately, there is a federal program available called Extra Help designed to provide financial assistance to those who need it most. [4]
Extra Help can significantly reduce out-of-pocket expenses associated with Xarelto and other prescription medications. To determine if you qualify for Extra Help, contact your State Health Insurance Assistance Program (SHIP) or visit the Social Security Administration's website. Qualification is based on income and resource limits.
5. There is No Generic Version of Xarelto Available in the U.S.
One of the best ways to save money on prescription drug costs is by using generic versions, which have the same active ingredients and effectiveness as their brand-name alternatives. But in the United States, the generic version of Xarelto is not yet available and no date is set for its market approval.
That means the cost of Xarelto will continue to be more prohibitive to U.S. consumers than other drugs for the foreseeable future.
Canadian Online Pharmacies: An Affordable Alternative
Canadian online pharmacies are a safe, affordable, and convenient alternative for accessing Xarelto at a lower cost than many U.S. pharmacies—even when you have Medicare coverage.
Formularies for Medicare Part D plans often require copays for Tier 3 drugs that reach $50 or higher for a 30-day prescription. At My Drug Center, however, a three-month supply of generic Xarelto (which is not yet available domestically in the United States) costs only $76.50.
Plus, Canadian mail-order pharmacies also offer the added benefit of direct home delivery, meaning you don't have to worry about traveling to and from a pharmacy to pick up your medication.
Visit our website to learn more about My Drug Center and how we can help you save on your Xarelto prescription.
DISCLAIMER: The information in the article is not meant to be used for treatment or diagnosis. It is designed for general awareness and for information purposes only. Always consult a medical professional for your specific healthcare needs.