Januvia, a brand-name medication widely used for managing diabetes, can be a costly burden for patients seeking effective treatment. However, there is hope in the form of MyDrugCenter, a reliable provider that offers substantial savings on Januvia compared to Costco.
MyDrugCenter offers 84 tablets of Januvia at 50 mg for just $279, while the same quantity and dosage at Costco come with a staggering price tag of $1,675.21. This significant difference of $1,396.21 showcases the remarkable savings that patients can achieve by opting for MyDrugCenter.
Even for the 100 mg dosage, MyDrugCenter continues to offer a more cost-effective solution. With a price of $285 for 84 tablets, patients can save an impressive $1,440.61 compared to Costco's price of $1,725.61. These substantial savings not only ease the financial burden but also empower patients to access the medication they need without sacrificing their overall well-being.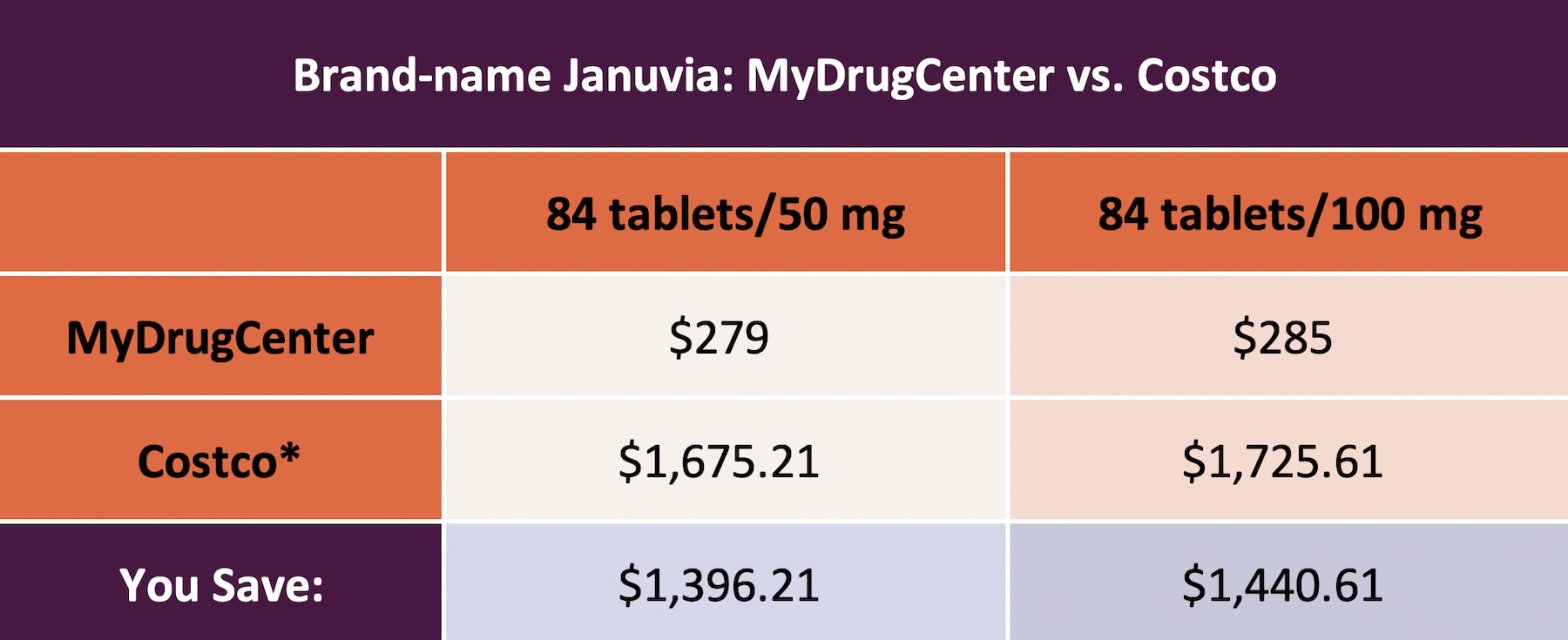 Prices retrieved 2023-06-06
*Estimate based on Costco #428 located at 2207 W Commonwealth Ave. Alhambra, CA 91803
Regardless of the retailer, the price of Januvia will be much higher in the U.S. than in other countries. Using systematic comparisons, researchers have found that American drug prices are 256 percent higher than 32 other countries combined. Even for generic drugs, prices in the U.S. are 84 percent higher than in other countries. [1] Put simply, the price of Januvia medication in the U.S. is unaffordable to many. Luckily, MyDrugCenter offers significant savings on Januvia.
How to save money on Januvia
U.S. drug prices may be sky-high, and you may ask your doctor for cheaper alternatives to Januvia. But, Americans still have options for saving money on prescription medications like Januvia.
One of those is to purchase Januvia and other medications from reputable online pharmacies and pharmacy referral services.
By taking this approach, shoppers can save a great deal of money. If you want to read more Januvia articles, you can visit MyDrugCenter's blog. By purchasing from reputable Canadian online pharmacies and pharmacy referral services, Americans can manage their type 2 diabetes with the medications they need without breaking the bank.
DISCLAIMER: The information in the article is not meant to be used for treatment or diagnosis. It is designed for general awareness and for information purposes only. Always consult a medical professional for your specific healthcare needs.