Table of Contents
---
I. What to Consider When Choosing an Erectile Dysfunction Drug
II. Which Erectile Dysfunction Drug is Best for You?
c. Vardenafil (previously sold as Levitra and Staxyn)
d. Comparing all Three Options
III. Save On Erectile Dysfunction Drugs at My Drug Center
---
Dealing with erectile dysfunction and deciding to take medication is a sensitive experience for most men. Knowing how to determine which erectile dysfunction drug is best for you can make it feel a little less challenging and help you more quickly resolve your symptoms.
In this guide, we'll help you begin the process by going over factors you need to consider when choosing an ED drug to take, top options on the market, and how to access the highest possible cost savings on your prescription.
Quick Takeaways
When deciding which erectile dysfunction drug is best for you, it's important to consider frequency of use, coverage and cost, and potential side effects.
Medicare and insurance offer limited to no coverage for ED medications.
Viagra is far and away the market share leader for ED drugs. Other popular prescription meds for ED include Cialis and Vardenafil.
Ordering your ED medication from an online pharmacy like My Drug Center can save you hundreds or even thousands of dollars on your prescription.
What to Consider When Choosing an Erectile Dysfunction Drug
As you determine which erectile dysfunction drug is best for you, there are a few considerations to keep in mind and go over with your doctor. These include:
Frequency of Use
Some erectile dysfunction drugs are better for occasional use, while others can be more effective for regular use. In some cases, a person may choose to alternate between different medications depending on their current lifestyle and relationship status.
Coverage and Cost
Many insurance plans (including Medicare) offer limited or no coverage for ED medication. It's important to figure out what coverage you have available (if any) and the out-of-pocket costs for your prescription.
The cost of your medication can impact which drug you choose and the frequency at which you're able to take and refill it.
Side Effects
Like any drug, erectile dysfunction medications have side effects that can impact certain health conditions or interact with other drugs you may be currently taking. If you are currently dealing with an active health condition—especially one you're taking medication for—it's important to talk to your doctor and understand the safety implications of each ED medication for you.
Which Erectile Dysfunction Drug is Best for You?
To determine the right erectile dysfunction drug for you, you need to know your options. Let's look at the three most popular ED medications on the market and what to know about each.
Viagra (sildenafil)
In 1998, Viagra (generic name sildenafil) became the first ED medication approved by the FDA for use in the U.S. It's often the first medication prescribed for people experiencing symptoms of ED and owns more than half of the total ED drugs market.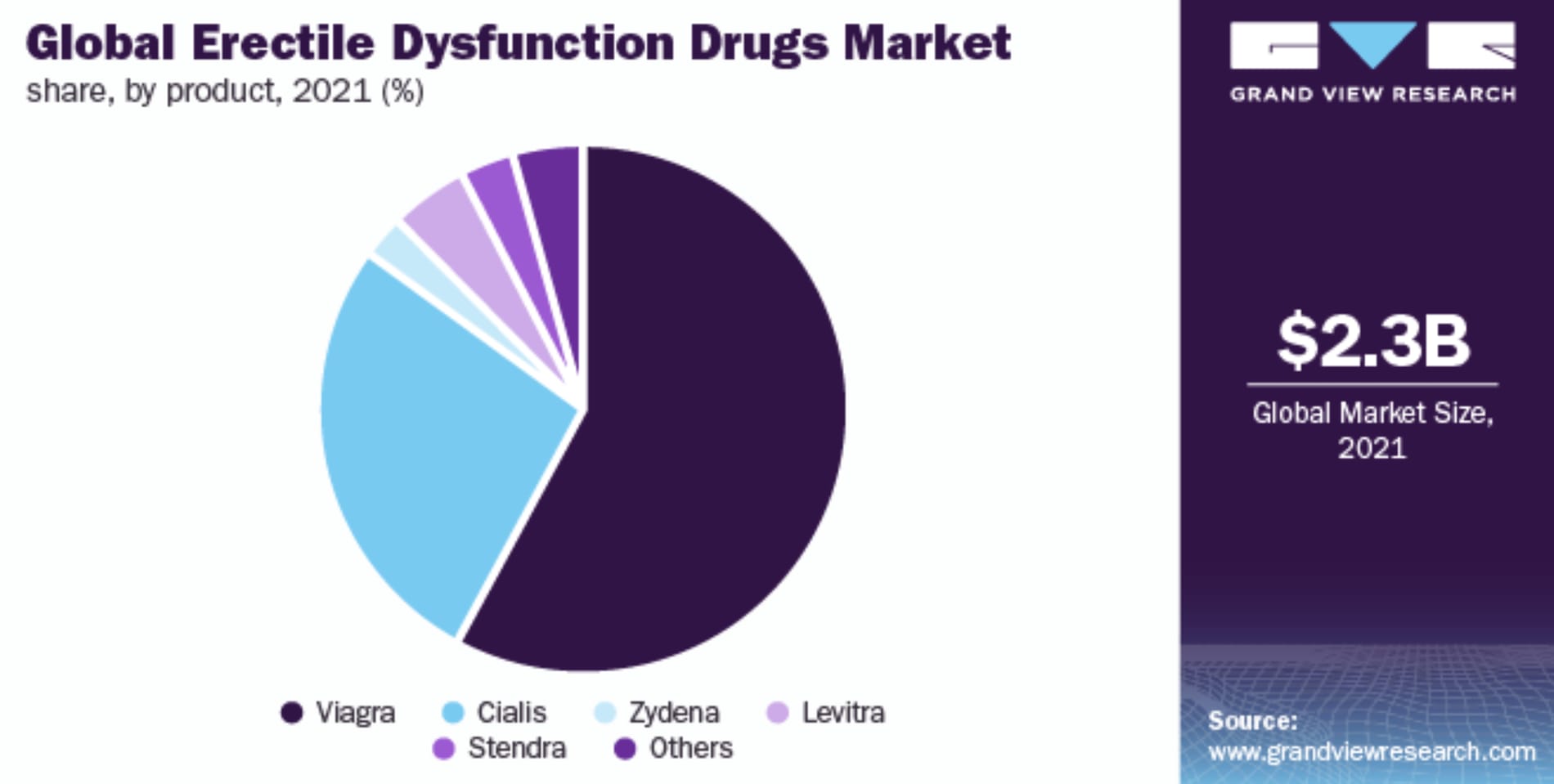 This massive market presence and high brand recognition are a significant part of its popularity, but from a medical effectiveness perspective, Viagra is known to go into effect quickly (within about one hour) and last up to 8 hours—an optimal time window for many compared to some other ED drugs.
Cialis (tadalafil)
Cialis is the second most-taken erectile dysfunction drug and is known for lasting longer than any other ED medication—up to 36 hours. Cialis can also be taken on a daily basis, which is the better option for many men who have a more difficult time responding to on-demand drugs.
Unlike Viagra, which is recommended to be taken on an empty stomach, Cialis can be taken with or without food. This is beneficial because it requires less planning and allows for greater spontaneity when taking the medication.
Vardenafil (previously sold as Levitra and Staxyn)
You may recognize vardenafil by its previous brand names Levitra or Staxyn. Both brands have been discontinued, but the generic version of the drug—which has the same active ingredients and effects—is still available.
Vardenafil is known for its fast-acting effects. It can begin working as quickly as 15 minutes after taking it and keeps working for about 5 hours after.
Comparing all Three Options
To help you consider each of these options and evaluate them effectively, you can use the table below for a more centralized comparison of important factors for each drug, including cost.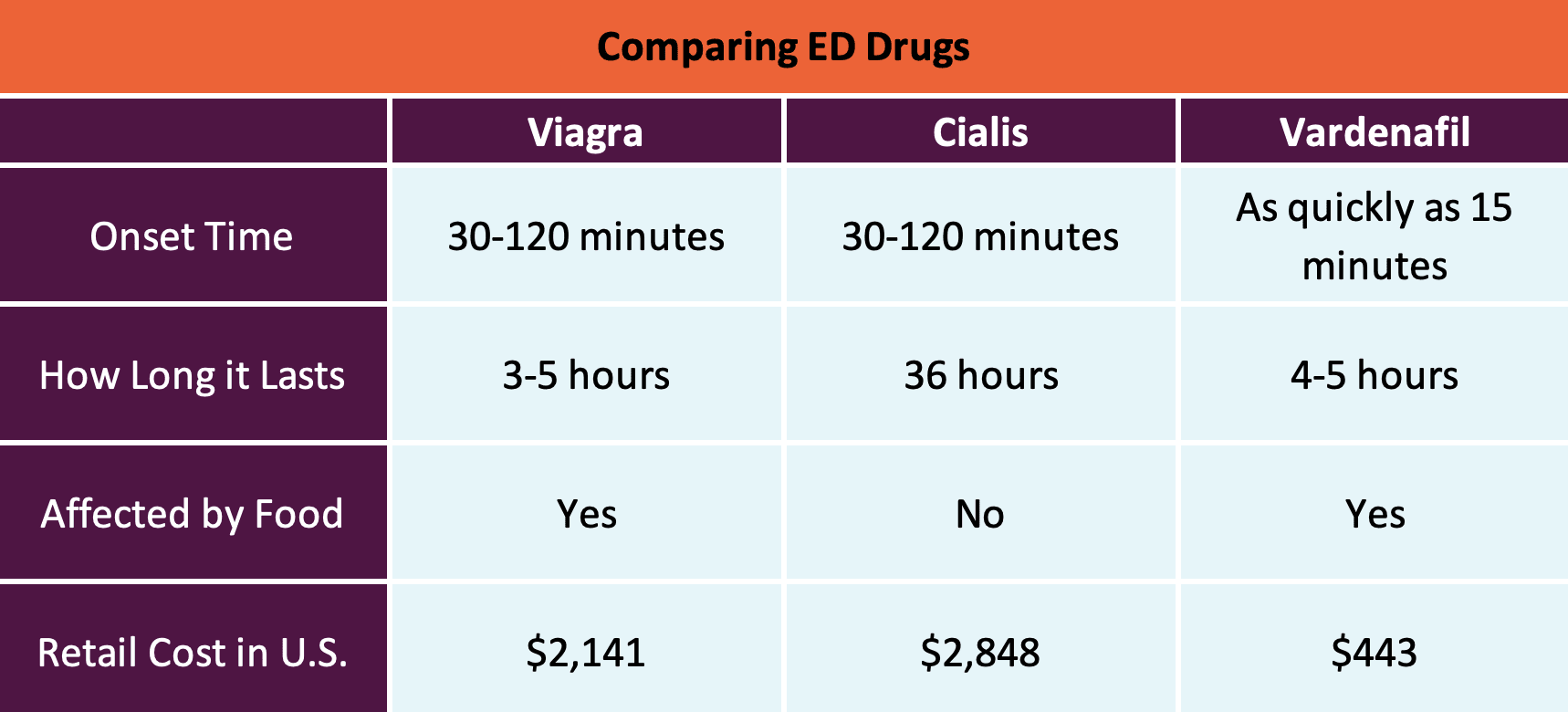 *Drug prices sourced from SingleCare in August 2023
Save On Erectile Dysfunction Drugs at My Drug Center
With limited to no support from insurance and Medicare plans for erectile dysfunction drugs, it's critical for those taking these drugs to access the best possible retail price. As you can see in the chart from the previous section, ED medications are extremely expensive in the U.S.
Online Canadian pharmacies like My Drug Center offer a safe and more affordable alternative. For example, 24 100 mg brand-name Viagra pills at My Drug Center costs only $219 compared to the U.S. price of $2141. Generic sildenafil costs just $69.
Cialis costs just $436 for 30 20mg pills at My Drug Center vs. $2848 in the U.S. Vardenafil costs just $29 for 10 20 mg pills at My Drug Center, vs. $443 in the U.S.
These cost savings of hundreds or thousands of dollars are life changing for men who take ED medication on a regular basis. Even better, your order through My Drug Center can be done conveniently online, and your prescription will be delivered in just a few weeks directly to your front door.
Last but certainly not least, ordering your ED medication from My Drug Center allows for an extra layer of privacy that most adults appreciate. While you still need a prescription to order, you won't need to worry about extra fact-to-face interaction with anyone but your doctor.
Visit our website to learn more about how to order from My Drug Center and save up to 80% on your ED medication today.
The information in the article is not meant to be used for treatment or diagnosis. It is designed for general awareness and for information purposes only. Always consult a medical professional for your specific healthcare needs.