Table of Contents
---
I. Introduction to Fluticasone
---
Introduction to Fluticasone
Flovent (fluticasone) is an inhaled corticosteroid medication used for the long-term treatment of respiratory conditions like asthma. Flovent is not a rescue inhaler and should not be used during asthma attacks. [1]
Fluticasone works directly in the lungs to reduce inflammation and swelling, opening up the airways to improve breathing. With regular use, fluticasone can prevent symptoms like wheezing and shortness of breath caused by asthma, bronchitis, and certain types of emphysema.
The History of Flovent
Fluticasone was discovered by Sir David Jack FRS, former Director of Research and Development at GlaxoSmithKline (GSK). In 1980, GSK patented fluticasone, which was approved for medical use in 1990. To this day, Flovent is the most popular asthma medication and the 15th most prescribed medication in the United States. [2]
GlaxoSmithKline is an innovative and multinational healthcare company based in London, England. According to Forbes, GSK is the world's sixth-largest pharmaceutical company. Sir David Jack's work at GSK was fundamental. An exceptional scientist, Jack's focused efforts improved medicines and he helped discover numerous new medications, including:
Inhaled beclomethasone dipropionate
Salbutamol/albuterol
Salmeterol
Labetalol
Ranitidine
Ondansetron
As you can see, Fluticasone was just one of many important discoveries. These other medicines became integral in the treatment of gastric acid diseases, migraines, cluster headaches, and emesis associated with cancer chemotherapy.
Before fluticasone was discovered, isoprenaline was widely used to treat symptoms of asthma. However, this drug caused cardiovascular side effects. The need to find a better treatment for asthma led to the discovery of salmeterol and fluticasone propionate, both of which have become the leading medications for respiratory conditions such as asthma and chronic obstructive pulmonary disease (COPD). [3]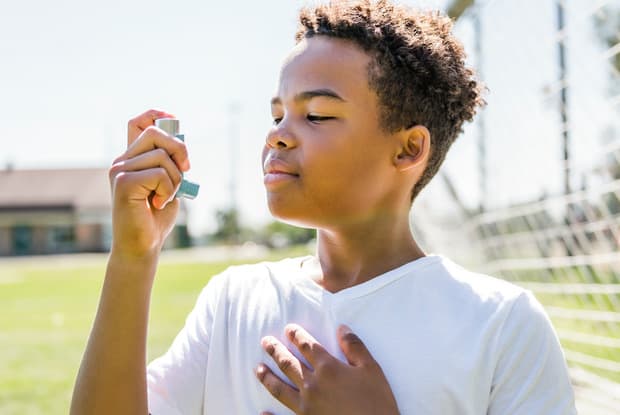 How Flovent Works
Flovent comes in an aerosol inhaler (Flovent HFA) and a diskus device that administers powdered medicine (Flovent Diskus). Both versions of Flovent effectively relieve respiratory symptoms by suppressing the body's immune response. This reduces inflammation, which in turn relaxes the airways and stops the lungs from being hyper-responsive. Long-term, ongoing treatment with fluticasone is referred to as prophylactic therapy. Flovent is often combined with a long-acting beta-agonist to maximize benefits. As mentioned above, fluticasone is not a rescue medication, so Flovent is often prescribed alongside an emergency inhaler for relieving sudden asthma attacks.
Buying Flovent Online
If your doctor has prescribed Flovent (fluticasone) for your asthma or COPD, visit My Drug Center to fill your prescription at the lowest price. Flovent HFA Inhaler and Flovent Diskus are available, so you have options depending on your condition and treatment goals. Your doctor will determine the right form of fluticasone for you. Creating a patient profile is secure and easy. Plus, our online health blog can provide you with more information on fluticasone. Buy Flovent online to save on time and money today.
DISCLAIMER: The information in the article is not meant to be used for treatment or diagnosis. It is designed for general awareness and for information purposes only. Always consult a medical professional for your specific healthcare needs.